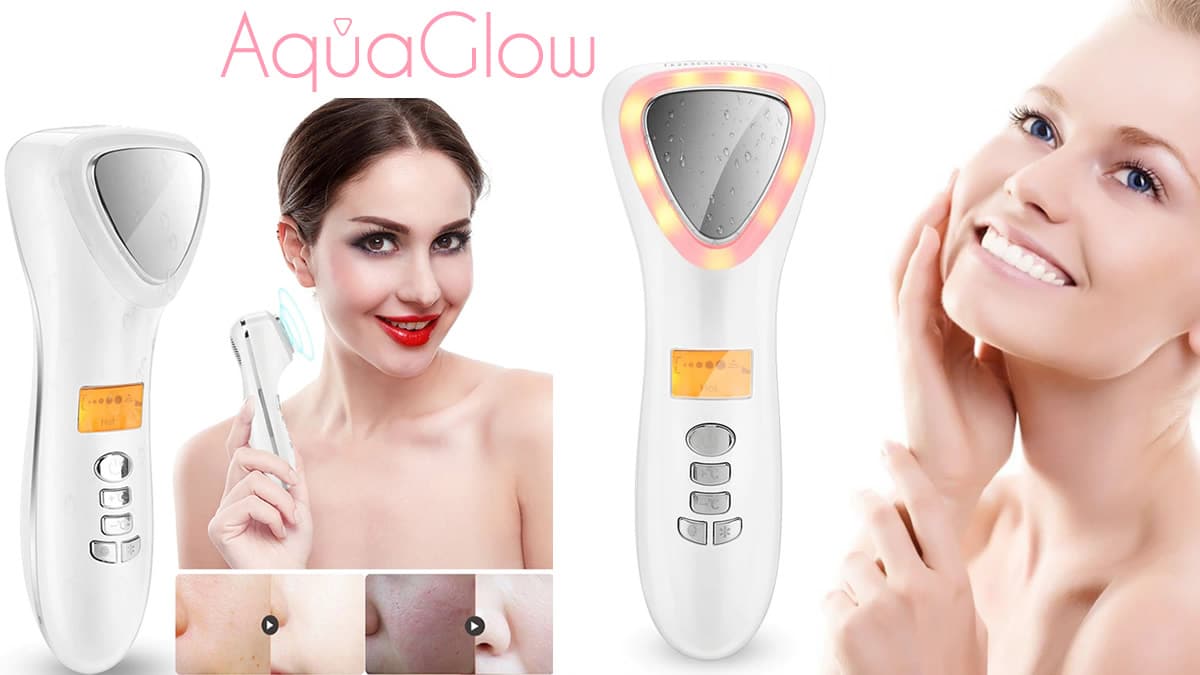 Hot and cold therapy with Aqua Glow for healthier skin
Aqua Glow dual-mode is a new anti-aging machine with a hot and cold treatment that allows you to cleanse your skin and remove all impurities with ease. You will enjoy a radiant and healthy complexion.
Total lifting effect with the Aqua Glow dual-mode device
By adjusting the five levels of cold or heat, the thermal laser (red light) relaxes the skin, opens the pores and allows cosmetics to be absorbed faster. The cold mode of Aqua Glow dual-mode (blue light) rapidly reduces and closes pores and firms the skin.
Aqua Glow ultrasound treatment will take years off your face
Ultrasonic vibration to revitalize the skin and clean dirt from the pores, that's the other key to the Aqua Glow Dual-Mode hot and cold treatment. Each massage allows you a total lifting.
In addition to this, you will considerably reduce oily skin and therefore the appearance of acne and blackheads, both on the face and anywhere on the body that you use it.
Main Features and Benefits of the Aqua Glow Acne Laser
Battery charging by USB with duration for more than five sessions. Ideal for use anywhere.
Five different levels of both cold and heat.
Red light laser to stimulate blood circulation and increase skin elasticity.
Ideal for preventing aging.
In addition, blue light laser to close pores and prevent acne and the formation of impurities in the epidermis.
Massage by ultrasonic distribution, it will allow you a greater cleaning and accelerate the metabolism to rejuvenate the area.
Very effective product, almost as effective as Wrinkare 3 in 1, used to eliminate wrinkles and flaccidity on the face and neck.
Temperature ranges between 6º and 42º. It is advisable to test the potency gradually to avoid skin irritation.
Weighing only 135g, it is very light and comfortable to wear.
Reduces the appearance of wrinkles, expression lines, bags under the eyes, sun spots and dark spots.
Other users have also consulted the review of Cavitation machines at home among others.
100% satisfaction guarantee, you have 14 days to return without obligation
Free delivery worldwide.
The seller has legal tax identification and makes direct sales by sending from the brand's factory, without third-party intermediation. It is NOT a dropshipping sale and your data and consumer rights are maintained 100%
In case of problems with your purchase, please retain your order number. We can help you at help@youneedthisgadget.com with any of the online stores.
Aqua Glow dual-mode heat cool gadget reviews and opinions
To prevent age marks, these types of devices work very well, if you also combine them with moisturizing masks there are usually spectacular results, the face looks young and radiant.
Patricia
Student
Pimples are among the worst experiences for adolescents, and up to a certain age. In many cases, reducing skin fat prevents the appearance of blackheads on the face by up to 90%.
Simone
Dermatologist
Brand:
Product Name:
Price:
Product Availability