Cine Movie mini projector portable HD
Video sessions anywhere with Cine Movie in HD and crystal clear
Cine Movie is a portable mini HD projector that will allow you to enjoy cinema sessions, movies, sports or games wherever you want. With the ability to reproduce crystal clear images on a screen of up to 80 inches, you can have all your entertainment anywhere.
The mini HD projector that will delight everyone at any time
We can bring all the magic of cinema to the little ones and enjoy without problems after the game with friends, or a series as a couple. We can also let the younger ones enjoy video games for hours. All this is thanks to the fact that the Cine Movie portable mini projector can work up to 30,000 hours, a very long life for this type of video projectors.
Outdoor cinema with mini portable HD projector Cine Movie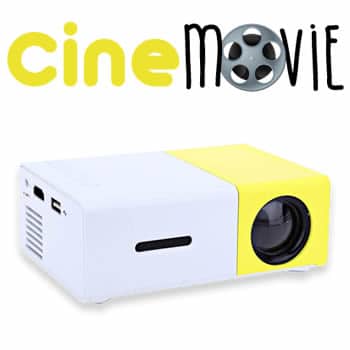 Another great advantage of the Mini Portable HD Video Cine Movie Projector is that it can be viewed on any surface, allowing outdoor sessions.
In addition to this, as it can connect and broadcast from any device, we will always have sources from which to view the content on the big screen.
Main features of the portable HD projector Cine Movie
HD image quality up to 720px with maximum sharpness up to 80 inches.
Projector lens protector included, ideal to avoid scratches.
5V power supply with standard adapter.
Supports HDMI, USB, AV inputs and has an SD card reader.
Take a remote control included in the package.
Supports and plays all standard video and audio formats.
The LED lamp has an estimated projection life of 30,000 hours.
You can play from mobile phones, computers, pen drives, memory cards, tablets and any other support.
Ideal for slide shows in projects or classes.
It has AV input, which will allow you to also broadcast TV in streaming.
Reduced dimensions that make it easy to carry.
One of the most popular gift gadgets for men this holiday season.
Projection screen is not included because it can emit on any smooth surface, preferably white.
Free shipping worldwide.
100% satisfaction guarantee.
Reviews and opinions of the portable HD Cine Movie video projector
When it is put on canvas at 50-60 inches it is very good, for the bedroom or living room the effect is very good and it seems that we have the home theater. I like it a lot and children enjoy it too.
Lucía
Concept artist
Outputting the sound with a pair of speakers with good bass gives it a very powerful effect. I tried to synchronize image with the bluetooth speaker, but it gives me some delay, better with wiring.
Alfred
Student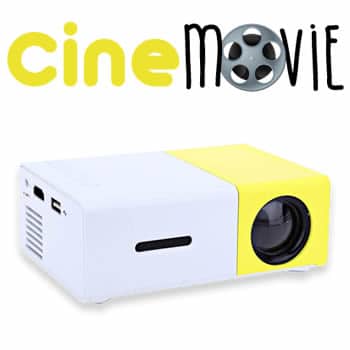 Brand:
Product Name:
Price:
Product Availability