V9 Tact Watch the most military smartwatch
With the new military smartwatch V9 Tact Watch you will bring out your wildest side
V9 Tact Watch is a new military-style smartwatch that has been specially designed for you to enjoy outdoors with its new anti-reflective glass, and to enjoy it in the extreme thanks to its toughness and resistance to shocks and the elements.
New design and more features in the V9 Tact Watch
Many new features in this great military smartwatch compared to its competitors. From the sleeker and more aggressive reinforcement screws to the new Bluetooth 5.0, advanced high-performance processor and expanded memory. The V9 Tact Watch model has innovated in all possible facets.
Crisp, full color training data with V9 Tact Watch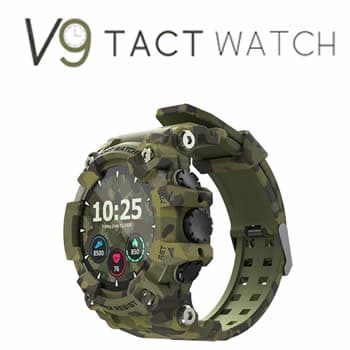 The interface of the V9 Tact Watch military watch can operate in full color and with various light intensities, making it more visible outdoors.
In addition to this, its anti-glare glass allows you to consult all the data in direct sunlight.
Features and new functions of V9 Tact Watch
Very long battery life, 230mAh and 12 days in use in color and 24 in black and white.
Anti-reflective sphere, resistant to impacts and scratches.
For people who like thinner watches, you can select the model Qnix Watch.
The watch is fully submersible and functional under water, the most suitable for freediving and diving.
The new RAM and ROM memory is much more efficient with 64MB included.
Health checks with the new HRS3300 sensor are much more efficient.
In addition, you have the usual health tracking applications. Sleep, steps, calories, heart rate, blood pressure, etc ..
You can receive messages, control the phone's music and camera, etc ..
Bluetooth 5.0 is more powerful than previous versions.
GPS and routes in the application.
You can receive calls, messages and alerts from the smartwatch.
Additionally, you have a more advanced version of the military watch in the Qinux Zero model.
Compatible with Android and iOS
100% satisfaction guarantee
Free delivery worldwide.
The seller has a legal tax identification and makes the direct sale by sending from the brand's factory, without third-party intermediation. It is NOT a dropshipping sale and your data and consumer rights are kept 100%
V9 Tact Watch reviews and opinions
It seems to me a great design, in addition the screws of the reinforcements stand out and give it a much more powerful image. I'm going to buy it and see how it works.
Nikolas
Security guard
I have the V8 model that is very similar, and the truth is that they have improved a lot at all levels. I am very happy with my purchase, and if I need one more day, I will not think about it and I will buy the tactical smartwatches again.
Juan Carlos
Hunter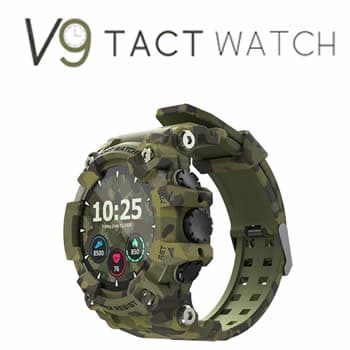 Brand:
Product Name:
Price:
Product Availability