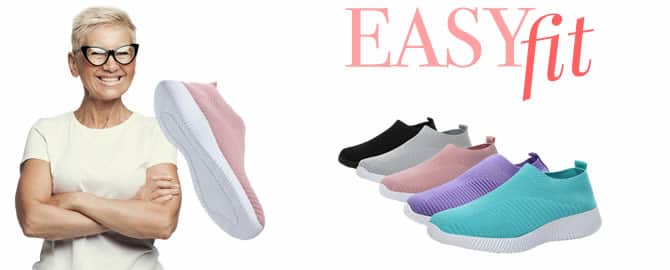 The Easy Fit sports shoe adapts to urban sports
Easy Fit are new unisex sports shoes that adapt to your feet without the need for laces. With non-slip soles and a fully breathable and elastic upper, they adapt to the foot and allow you to exercise with ease.
Easy Fit slip-on shoes are perfect for all ages
Older adults and children sometimes have problems tying their shoelaces, and when they are in the street exercising, or on the school sports court, this can be a nuisance. Easy Fit sports shoes without laces solve this problem.
From the gym to the street, with Easy Fit you can do all kinds of sports
For long walks or sports sessions on the track, it is ideal to wear comfortable shoes that cushion the footprint and have good internal ventilation. The Easy Fit no-stitches athletic shoe meets all of these needs.
In addition to this, it is so flexible and comfortable that it prevents foot pain or fatigue from accumulating.
Main characteristics of the Easy Fit slip-on sneakers
Unisex footwear in sizes from 33 to 44, ideal for all ages.
They are very comfortable to wear, the elastic holds the foot firmly and does not move, avoiding chafing and calluses.
The sole cushions the impact of the tread, thus helping to prevent injuries and reducing fatigue.
It also has a design to prevent slipping even on wet ground.
Your feet won't sweat even in summer. Fully breathable to avoid bad odors, fungus and skin problems.
It is advisable to wear these shoes with soft socks to improve grip when running.
You can practice fitness, light running, walking, doing track sports, especially children.
For athletes of running, mountain and other more demanding disciplines it is advisable to wear specialized footwear.
The same company distributes Comfy Shoes slippers
The bridge of the foot is curved to prevent plantar fasciitis and other injuries.
In addition to this, the heel area is reinforced to protect the foot from blows.
If you use them for sports and then to go out for the rest of the day, it is advisable to put antiperspirant powders inside, based on boric acid.
Although they are considered women's shoes, they are really very comfortable unisex models for men as well.
100% satisfaction guarantee, you have 14 days of return without obligation
Free delivery worldwide.
The seller has a legal tax identification and makes the direct sale by sending from the brand's factory, without third-party intermediation. It is NOT a dropshipping sale and your data and consumer rights are kept 100%
Reviews and opinions of the Easy Fit slip-on sports shoes
I like to do half a marathon, and I already told you that for running neither on asphalt nor in the mountains they seem like good footwear. In two weeks they would be shattered. Another thing is that it is used for small routes and slow travel.
Gio
Window technician
In my opinion, for older people it can be a good incentive to go for a walk. If I can get my parents to take a test and they like it, I convince them to start walking more in the morning.
Clara
Music teacher
Brand:
Product Name:
Price:
Product Availability