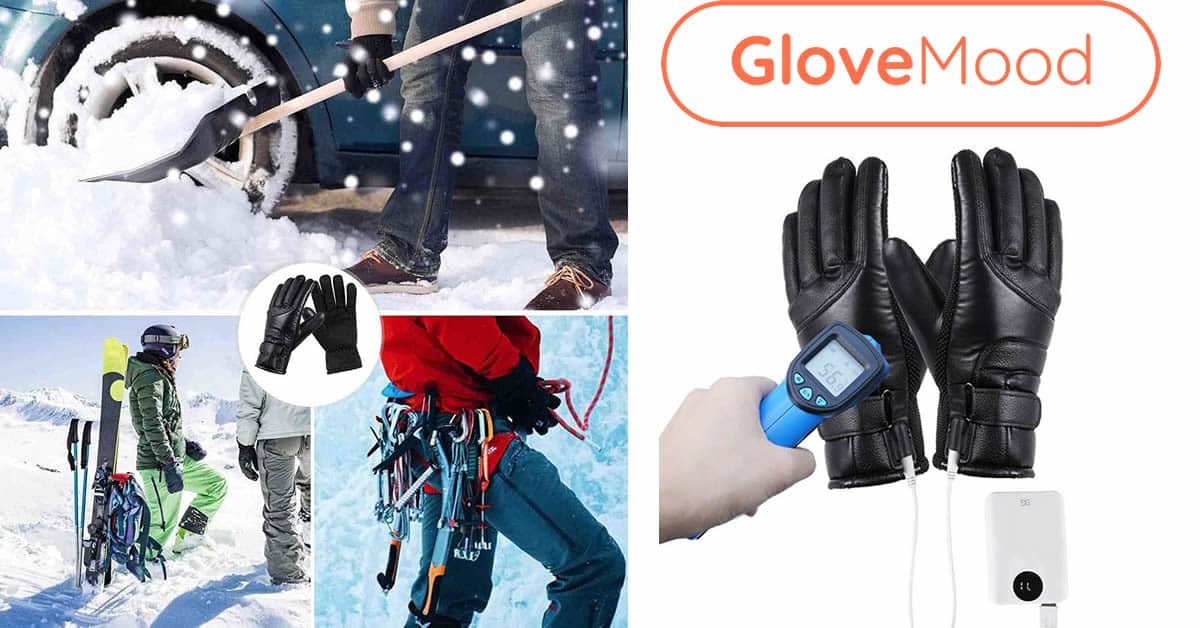 Move without cold with GloveMood, the latest generation gloves
GloveMood are heated gloves that incorporate a 10,000Mah charge bank that allows you to keep your hands warm even in the most extreme cold circumstances. They also provide excellent mobility and resist all types of adverse weather.
Instant heat in your hands with GloveMood thermal gloves
Thanks to a resistance with a very smooth threaded wiring design, you can instantly heat even the back of your fingers. In addition, the flexibility of the GloveMood heated gloves allows you to perform all types of tasks while wearing them without getting bothered.
GloveMood heated gloves are designed to be able to use your smartphone
Because the touch surface of the index finger transmits the induction of the human body through the glove to the mobile phone screen, so you can use GloveMood heated gloves while handling any screen.
In addition to this, its charging bank allows you to always have battery available for your smartphone or tablet (better with USB 2.0).
Features and benefits of GloveMood heated gloves
10,000 MaH battery with a duration of up to three hours at maximum power.
USB 2.0 connection that allows it to function as a charging bank.
Adjustable temperature with one-touch touch control, very easy to use.
Rapid hand warming in extreme temperatures.
In addition, they provide warmth without being connected thanks to their inner fleece lining.
Waterproof and wind resistant, you will keep your hands warm for hours.
In addition to this, thanks to the threaded wiring, the back of the hand is also heated.
Smart design so that you can control the phone screen with your thumb and index finger.
Extended wrist fit and non-slip palm so you have a secure and comfortable grip no matter your size.
In addition to this, Together with BooJoy Winter Shoes they are the best accessories this winter.
If you are looking for a design of tactile gloves that are not heated, Boolex Sport Gloves is our most recommended model.
100% satisfaction guarantee, you have 14 days of return without obligation
Free delivery worldwide.
The seller has a legal tax identification and makes the direct sale, sending from the brand's factory, without the intermediation of third parties. It is NOT a dropshipping sale and your data and consumer rights are maintained 100%
In case of problems with your purchase, please keep your order number. We can help you at help@youneedthisgadget.com with any of the online stores.
Our Final Rating of the GloveMood Heated Touch Gloves Review
Among the garments to use in intense cold situations, these gloves are one of the best options in terms of resistant material, which makes them ideal for playing sports, riding a motorcycle or bicycle, or even skiing.
Conclusions and opinions of the GloveMood heated gloves review author
The order arrives in a short time, and also very well presented. They fit well in the hands and the touch part is sensitive and makes using the phone much easier. The part that warms your hands is not very hard, and it heats up very quickly, you don't need much time to loosen the numbness of your fingers.
Brand:
Product Name:
Price:
Product Availability