Handsan Wrist sanitizing gel dispensing bracelet

Your hands are always clean with the Handsan Wrist portable hydroalcoholic gel dispenser, official product
Handsan Wrist is a portable hydroalcoholic gel dispenser that is placed on the wrist and that allows us to disinfect our hands wherever we are. It is fully refillable, and very easy to use, and even to share, since you can dispense the gel without contact.
The Handsan Wrist portable gel dispenser is perfect for back to school
With the return to school, the children will need an extra in terms of prevention and hygiene. One way you don't forget to disinfect your hands is to always have a portable hydroalcoholic gel dispenser like Handsan Wrist on hand.
Firstly, they will always be able to sanitize their hands, and secondly, they won't have to go to the nearest dispenser, which will prevent them from having to queue, or forgetting, or not going because they are playing and forget them. In short, it is another ideal tool for the prevention of infections.
Avoid touching gel dispensers in public places for greater sanitation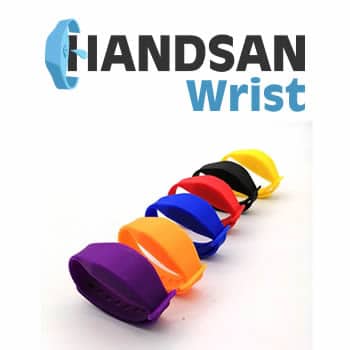 Supermarkets and other public places have gel dispensers that everyone touches. With the Handsan Wrist portable wrist hydroalcoholic gel dispenser bracelet you will avoid these problems.
In addition to this, by personally filling the gel reserve, you can use quality products of your choice.
Features of Handsan Wrist Portable Wrist Gel Dispenser
Made of semi-rigid silicone for greater product resistance.
Hermetic valve that prevents leaks, it will not drip or stain your clothes.
It works by pressure, it is very easy to use even in children.
Completely anti-allergic materials.
Sweat resistant and waterproof.
Tank that can store up to 50ml of hydroalcoholic gel.
It allows to apply the disinfectant directly to the hands and even share without contact with other people.
Ideal for children, resists bumps and scratches, it can last for years without breaking down.
It can be sterilized with the best portable UV sterilizers at any time.
Designs in various colors to choose from.
Free shipping worldwide.
100% money-back guarantee.
Reviews and opinions of the Handsan Wrist portable gel dispenser
It's very comfortable and practical, you don't even realize you're wearing it. In addition, it is very useful when you go to public places, since you do not touch anything that has been touched by hundreds of people.
Jennifer
Laundry clerk
Just to avoid queues I bought it. In addition, I have some hypochondria and I find it difficult to be queuing in supermarkets to apply disinfectant. This way I avoid excessive contact.
Dustin
Apple Genius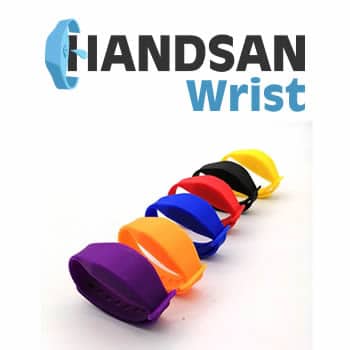 Brand:
Product Name
Price
Product Availability