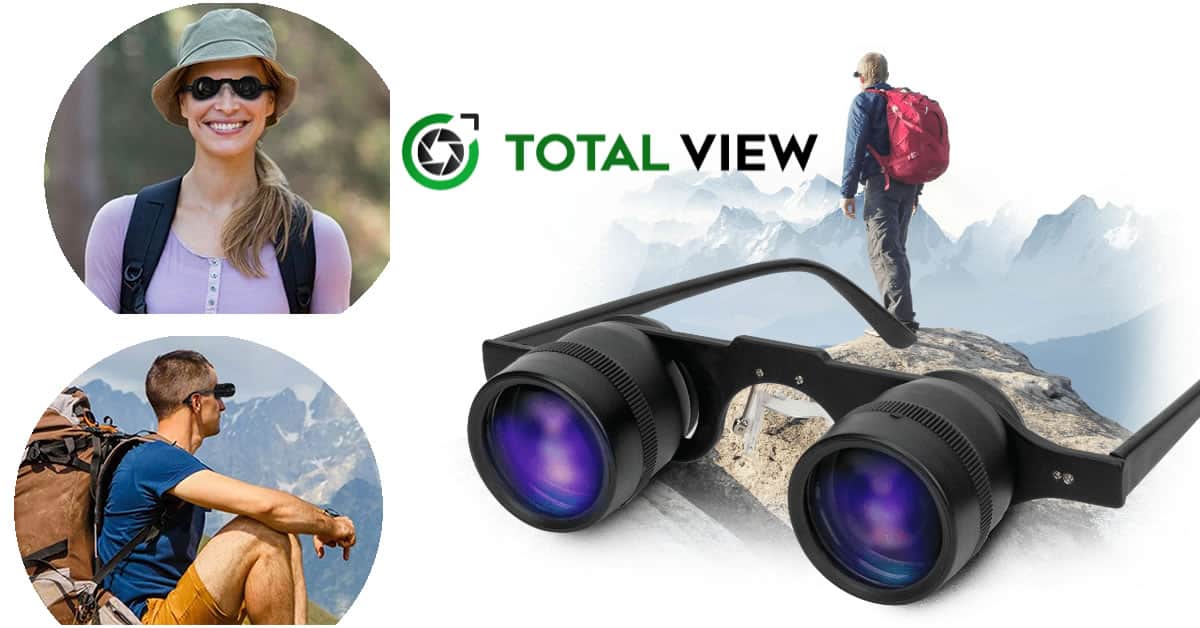 Don't miss a single detail with Total View, the most comfortable binocular
Total View is the hands-free binocular designed so that you can carry out any activity in which you need to see very far away without having to keep your hands busy. It has the precise vision of military binoculars and the comfort of glasses.
Military lenses for your fun with Total View binoculars
Thanks to new military-grade lenses that give you 300% magnification, you can have fun doing activities such as fishing, observing nature or even attending events in stadiums, everything is easier with Total View hands-free binoculars .
Total View binoculars let you see far away for longer
With green filters for a sharper image, individual focus knobs and an adjustable field of view on the Total View hands-free binoculars, your eyes will be less strained and you'll be able to use them for much longer.
In addition to this, its non-slip nose pads and its less than 1/8 pound weight make it perfect to spend hours enjoying remote viewing.
Features and advantages of Total View binoculars
300% magnification lenses in both eyes.
Adaptable size that allows you to wear them without rubbing or falling.
Hypoallergenic silicone nose pads.
Protection against scratches and bumps, the lenses will last for years.
Barely 55g in weight which makes you not notice them when carrying them.
Together with the flashlight Qinux BatForce LX it is the ideal companion for an excursion.
Multilayer coating with green film that improves visual contrast and prevents blurred vision.
Customizable and non-slip, they adapt to you at all times.
Ideal for the countryside, stadiums, fishing, nature monitoring, etc.
In addition to this, you can use them for sightseeing and appreciate more details in distant attractions and buildings.
Listed as the best recreational lenses along with Zoom monocular for smartphones that you can find on this same website.
You can clean them with Peeps By CarbonKlean and always have them impeccable.
100% satisfaction guarantee, you have 60 days of return without obligation
Free delivery in the USA.
The seller has a legal tax identification and makes the direct sale, sending from the brand's factory, without the intermediation of third parties. It is NOT a dropshipping sale and your data and consumer rights are maintained 100%
In case of problems with your purchase, please keep your order number. We can help you at help@youneedthisgadget.com with any of the online stores.
Final rating of the Total View hands-free binocular review
We have before us a practical tool, easy to adjust and very versatile. The quality of the brand is proven and allows us to have a very useful tool to see from a distance.
Conclusions and opinions of the reviewer of the Total View binoculars
I can assure you that they are comfortable. The frame is sturdy, (I have already dropped it a couple of times). The grip on the face is good and the lens allows you to see very far and with great clarity. I liked them.
Brand:
Product Name:
Price:
Product Availability