Vacuumer Max food vacuum packaging
Your best preserved food with the Vacuumer Max vacuum generator air-free, official product
Vacuumer Max is a suction device designed to remove air from food preservation bags and thus generate a vacuum that helps preserve all food fresh and air-free for longer.
You can preserve any type of food with Vacuumer Max in the fridge and in the pantry
One of the advantages of preserving food in a vacuum with Vacuumer Max is that being free of air they remain in perfect condition for a long time both in the refrigerator and in a pantry. It is advisable to keep fresh food such as fish or meat cold, but cold cuts and dry products last for weeks in a pantry.
Use Vacuumer Max to preserve vacuum packed food on flights and trips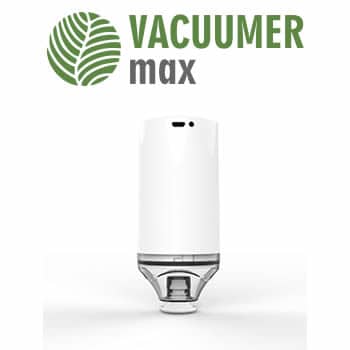 The Vacuumer Max vacuum generator is ideal for vacuum packaging foods that must be transported in suitcases on international flights, as they thus comply with food transport regulations.
In addition to this, you will avoid bad smells in the passenger area if you take food in the passenger area on the flight or on any other public transport.
Main features of the Vacuumer Max air aspirator
It is very easy to handle, you just have to place the food in the airtight bag and vacuum all the air.
It has a powerful and rechargeable battery that will allow you to use the device as many times as you need.
The suction nozzle is of standard format and attaches to any closure.
It can be used to vacuum preserve any type of solid food.
Raw foods such as meat or fish, and cooked foods, it is advisable to keep them once the air is removed in the refrigerator.
Cured, smoked or dried foods stay fresh for a long time also in pantries if they are packed at empty is correct.
Can be used in the freezer.
Do not empty the air if the food is hot, as they generate steam and the vacuum would not be efficient.
With the correct packaging, food can last for weeks in the refrigerator or months in the case of smoked and dehydrated.
100% money-back guarantee
Free shipping worldwide
Reviews and opinions of the Vacuumer Max vacuum sealer
It's very practical and helps save a lot of space in kitchen cabinets and in the fridge. I save a lot on tuppers and have all the food well organized in a few minutes.
Amanda
Court caller
I have one just like the one in this review, and I took it on a trip to Spain. I used it to vacuum-pack a Cabrales cheese and Serrano ham, and I was able to get it all safely on the plane afterwards. packaging is practically professional if done with care.
Bruce
Cameraman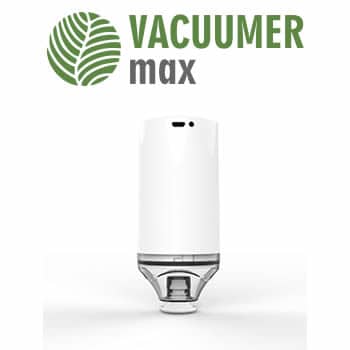 Brand:
Product Name:
Price:
Product Availability