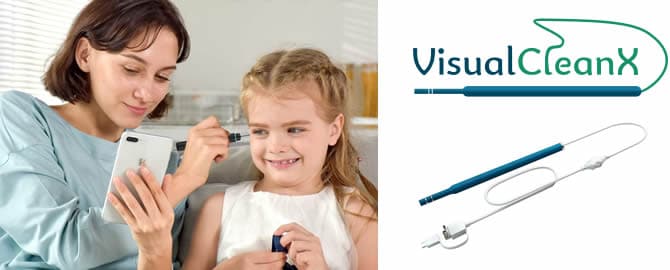 With the new Visual Clean X ear cleaner you will avoid hurting yourself
Visual Clean X is an ear cleaner with a camera that transmits the images of what you are doing in real time to your computer, tablet, phone, etc. via Bluetooth. You will see what you do at all times thus avoiding damaging your inner ear.
Surgical technology throughout with Visual Clean X ear cleaner
A head with a camera illuminated by miniature LED lights and a fully flexible and articulated examination arm are used to perform medical examinations. This same technology is used by the Visual Clean X ear cleaner so that the device adapts to each person.
Cleaning children's ears will be a game with Visual Clean X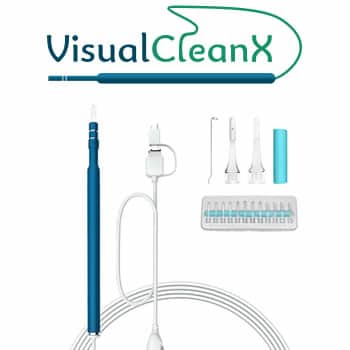 Many children have problems when parts of their bodies are invasively cleansed. Visual Clean X allows them to see the process on the screen and turns it into a game.
In addition to this, they can see the dirt that is formed and be more aware of the importance of hygiene.
Features and Benefits of Visual Clean X Camera Ear Cleaner
Installs very easily on any device with Bluetooth
The camera is 1.3Mpp in color, HD and allows for professional cleaning image.
To illuminate the darkest areas it has six micro LED lights.
Very small and light 120mAh fast-charging battery with an anti-discharge system that will allow you more than 60 minutes of cleaning.
Unlike spiral ear cleaners, this model has an intelligent temperature control system that prevents you from getting burned.
You can use up to four different cleaning heads to treat each type of dirt and earwax.
It is also totally waterproof and very easy to use.
This year this new model has proven to be superior to Q Grips in all tests.
You can perform professional cleaning without damaging any cavity or organ.
In addition to this, according to our experience you can use it for other areas of difficult vision, such as the nasal cavities
Compatible with Android, iPhone, Bluetooth televisions, computers and more.
100% satisfaction guarantee and 30 days money back.
Free delivery worldwide.
The seller has a legal tax identification and makes the direct sale by sending from the brand's factory, without third-party intermediation. It is NOT a dropshipping sale and your data and consumer rights are kept 100%
Reviews and opinions of Visual Clean X camera ear cleaner
From now on we will not be able to do a colonoscopy on our own if we continue like this. Just in case later you should not do the test of cleaning the nose with the device.
Gerard
Sports analyst
I personally like to extract the ear wax more with the spiral heads than with the spoon ones, they seem less aggressive according to my experiences.
Lindsay
Event organizer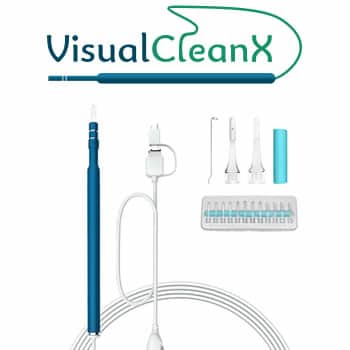 Brand:
Product Name:
Price:
Product Availability