Wizzyfy, the rug with a basket for toys
The perfect playground is Wizzyfy, ideal for children
Wizzyfy is a children's play mat with a basket to collect toys attached to the side. With this simple gadget, children can play as long as they want without getting dirty or cold in winter, and in a few minutes pick up the toys.
Toys always ready to travel with the Wizzyfy play area
When we go anywhere with children, to see a family member or acquaintance, or on a trip, the biggest handicap is to bring toys so that they don't end up scattered anywhere. Thanks to the Wizzyfy portable play area we can easily carry the toys and in a few minutes create a play area.
Improve the education of the little ones with the Wizzyfy play mat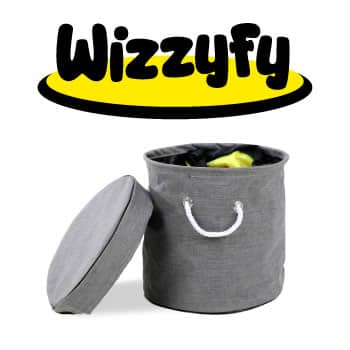 Educating children to pick up their things is complicated. The Wizzyfy play mat is a space they come to own, and picking up their things becomes a fun and easy learning process.
In addition to this, it is easier to have the little ones in their play space and prevent them from leaving the safety zones.
Characteristics and advantages of the Wizzyfy play blanket
One and a half meters of play area in no time.
large capacity toy storage basket.
Made of high resistance canvas, you can carry weight without problems.
Resistant to sand, grassy floors, etc. It is perfect for the beach or the countryside.
It can be used by children of all ages, and even adults as a picnic basket.
The rug has a rope that allows you to stretch the edges and keep all the toys attached.
You will be able to pick up the toys in a minute or two without losing them.
Rope handles and basket made of very decorative fabric, it is ideal to have toys stored at home.
Four colors to choose from.
You can also use it for children to play without getting cold on the ground on winter days.
Together with T-Drone it is one of the best-selling products for children this year.
100% satisfaction guarantee, you have 14 days to return without commitment
Free delivery worldwide.
The seller has a legal tax ID and sells directly from the brand's factory, without the intermediation of third parties. It is NOT sale by dropshipping and your data and consumer rights are kept 100%
Reviews and opinions of the play mat with basket Wizzyfy
My dining room sometimes looks like a battlefield. Pieces of all colors and figures everywhere, and finally you end up stepping on something and breaking it, or hurting yourself.
Martha
Graphic designer
Every day I have a fight with the smallest to pick up the toys. There's no way I'm going to do it the first time. Sometimes I have to punish him and collect everything myself.
Belén
Artist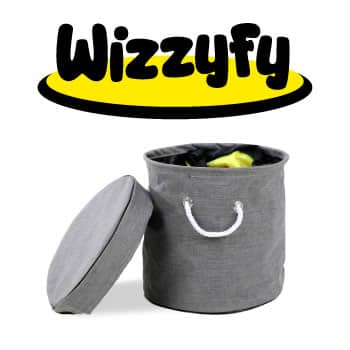 Brand:
Product Name:
Price:
Product Availability