Younger Rock, Gua Sha Anti-Aging Treatment
Smooth and firm skin with Younger Rock, the Gua Sha roller
Younger Rock is a roller jade stone for Gua Sha rejuvenation techniques on the face and neck. With this ancient technique you can prevent and reduce all kinds of facial and age-related wrinkles, such as expression marks, dark circles, etc.
It is easier to use Younger Rock because of its roller jade Gua Sha stone
Thanks to a comfortable handle specially designed for comfortable use, you will be able to apply the largest stone in the larger surface areas and the smaller one in delicate areas. In this way, the Younger Rock jade Gua Sha stone allows you a more versatile and effective massage.
The Younger Rock Roller Gua Sha Stone is for men and women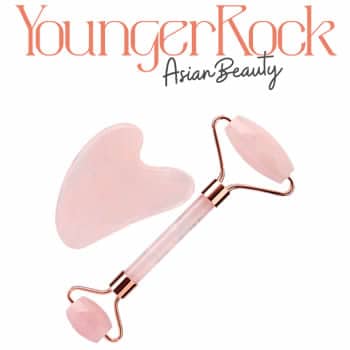 More and more men perform treatments to have youthful skin. The Gua Sha Younger Rock stone works on both men and women, removing wrinkles and expression lines.
In addition to this, each time this type of massage is started at an earlier age in order to prevent the signs of aging on the face before they appear.
Characteristics and uses of Younger Rock jade Gua Sha stones
Three stones specially designed, each one for an area of ​​the face and neck.
Roller with two different massage zones to reach each part with wrinkles or age marks.
Always perform the Gua Sha massage without makeup on the skin.
Stimulation of blood circulation in the face, also eliminates paleness.
Prevents and reduces wrinkles, dark circles, crow's feet, expression marks on the forehead, eyes, lips and other areas.
In addition to this, you will be able to reduce jowls and neck wrinkles.
You will tighten the skin and obtain a younger and healthier appearance.
Available colors in green and pink.
You do not need chemicals or other cosmetics to perform the massage.
It is advisable to use a moisturizing cream occasionally to increase the effects of the treatment.
Together with the Rose Bell stone, it is one of the most recommended lots in its category.
100% satisfaction guarantee, you have 14 days to return without commitment
Other users also consult the review on how to eliminate cellulite quickly.
Free delivery worldwide.
The seller has a legal tax ID and sells directly from the brand's factory, without the intermediation of third parties. It is NOT sale by dropshipping and your data and consumer rights are kept 100%
Reviews and opinions of the Younger Rock polished jade Gua Sha stone
Personally, I prefer anti-wrinkle creams, they are usually less invasive, although I do not rule out doing a test in the future. I believe that this type of massage takes up more time and requires more dedication.
Rachel
Waitress
I have a lot of experience in performing Gua Sha massages, jade stones are not all the same, and some after a while they crack or wear. The most important part is that they are highly polished, so that they are more than smooth. It should look like polished glass to the touch.
Silvie
Guitarist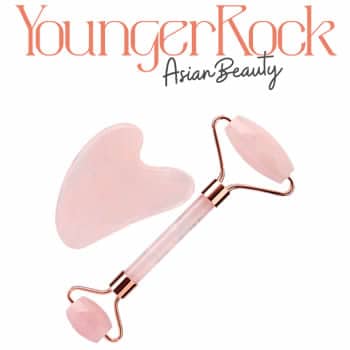 Brand:
Product Name:
Price:
Product Availability