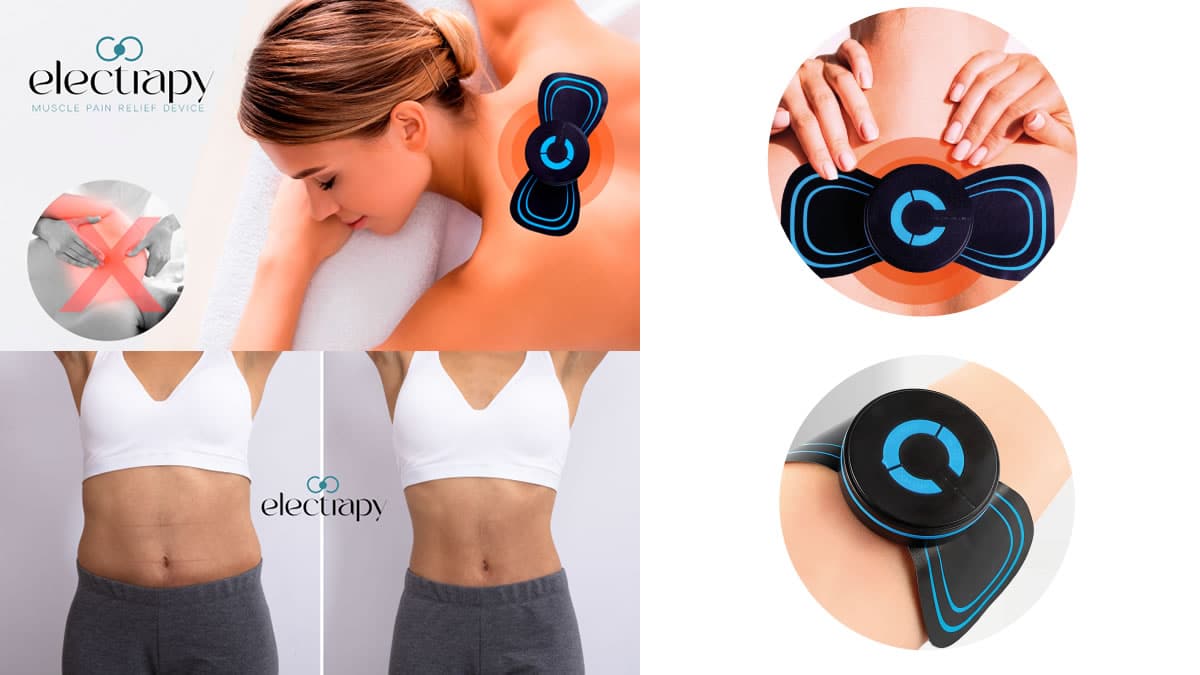 Portable relaxation with Electrapy, the most versatile massager
Electrapy is a new electrostimulation massager that, in addition to working on the neck and back, can be used on other parts of the body such as the abdomen, arms or legs. Relax all your muscles and eliminate tension with a complete massage.
Flatter stomach with the Electrapy electrostimulation massager
If a device is used to relax muscles, why couldn't we use it to harden them? If, in addition to relaxing muscle tension, you want to lose a few centimeters off your waist, with the Electrapy electrostimulation massager you will have both in a single device.
More effective muscle recovery in athletes with the Electrapy massager
For those of us who practice sports on a regular basis, in addition to stretching, we must sometimes relax our muscles, and a massage is ideal for this. The Electrapy electric massager will be your pocket masseuse.
In addition to this, it is perfect for relieving muscle pain, and even for accelerating the recovery process in injuries such as sprains or contractures.
Features and benefits of the Electrapy electric massager
USB charging battery, light, small and long lasting.
Different levels of frequency to control the intensity according to your needs.
Relaxing massage for the neck and back, ideal for relieving pain and tension in the neck and muscles.
In addition, you can use it on the extremities and improve muscle recovery after sports.
If you want to reduce fat from the waist, this device also works, the electrostimulation sessions will allow you to lose fat in the abdomen.
Perfect fixation to any part of the body, it does not fall off during electrotherapy.
Small and easy to store, you can take it with you to work or even on a trip. The charge lasts several days.
You will eliminate drugs to treat muscle pain, plus massages provide greater elasticity to your muscle mass.
Other users also use the posture corrector Sittamax to avoid back pain before it starts.
Finally, it can be used at all ages, it is advisable not to apply it to very young children.
This year it will be among the muscle-and-abdominal-stimulators more sold
100% satisfaction guarantee, you have 14 days to return without obligation
Free delivery worldwide.
The seller has legal tax identification and makes direct sales by sending from the brand's factory, without third-party intermediation. It is NOT a dropshipping sale and your data and consumer rights are maintained 100%
In case of problems with your purchase, please retain your order number. We can help you at help@youneedthisgadget.com with any of the online stores.
Reviews and opinions of the Electrapy electric massage device
When I train, then I use a very similar one for muscle electrostimulation. If you work it at high intensities, you develop and harden muscles more easily. It is another very widespread use.
Eva
SEO-SEM
If you suffer the bad experiences of back and neck pain due to tension, having a massage device at hand is one of the best solutions. You have to think that there are usually no masseurs on duty.
Peter
Social manager
Brand:
Product Name:
Price:
Product Availability