Flexsafe backpack anti-theft safe
Your belongings always safe with FlexSafe the total anti-theft backpack
FlexSafe is the safest anti-theft backpack on the market. With a shock resistant combination lock that cannot be easily tampered with, and five layers of cut protection, radio frequency protection and totally waterproof, your belongings will always be safe.
The perfect anti-theft backpack for travel is FlexSafe
If you have to make a trip, and you want to have your belongings safe from theft, someone pirating your cards, or having your backpack cut from underneath to steal, without you noticing, the anti-theft backpack FlexSafe is perfect. It is made with 5 different layers of fabrics that include nylon, a layer of RFID (frequency identification blocking), 3mm EVA and an anti-cut grid.
The FlexSafe anti-theft backpack is the perfect size for all your things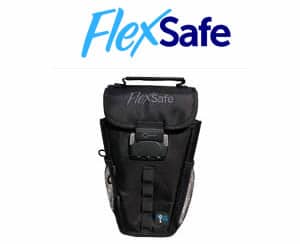 You will be able to store your mobile phone, glasses, documentation and other belongings without problems thanks to the capacity of the FlexSafe anti-theft backpack.
Additionally, thanks to its great design, with fastening straps and outer meshes, you can carry other things of less value, such as a bottle, and with total comfort.
Main features of the FlexSafe anti-theft backpack
Real protection against theft by cutting the bottom, it has a grid that resists the edge of any knife.
Aqua Vault design with improvements in seams, fabric stiffness and closures.
All your cards protected from any remote data theft with the RFID layer.
It has a double nylon layer, one external and one internal.
In addition, it has an intermediate 3mm EVA layer that gives it greater rigidity, and at the same time, protects the objects it contains.
It is completely waterproof.
For greater security, it has a shock resistant nickel alloy anti-theft lock.
In a backpack that also fits in any suitcase without taking up hardly any space.
It has lateral nets that allow you to carry more things.
Its straps make it easy to carry, not only holding the man, but also on the bike , the baby stroller etc..
You have a 30-day trial with the possibility of a return without obligation.
Product advertised on TV.
Registered brand safety backpack and only in official store.
It is ideal for sightseeing in high-risk areas such as the Ramblas of Barcelona.
Perfectly and securely fits the lens for cameras Ultra Zoom according to the manufacturer's review.
100% guaranteed delivery worldwide.
Return guarantee from the official store without obligation.
Reviews and opinions of the FlexSafe anti-theft backpack
They gave me one for my birthday, and I can say that it is very good, I fell one day with the bicycle carrying it and nothing broke, yes, the nylon layer peeled a bit.
Laura
Administrative assistant
It is really as they say in this review, I have the same backpack and they tried to rob me by cutting the bottom, but they did not succeed, the knife stopped on the internal grid, also I could tell. This is going to be one of the gifts of the year.
Cindy
Reporter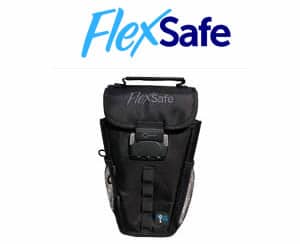 Brand:
Product Name:
Price:
Product Availability