Ultra Zoom, lens for smartphones

The best panoramic photos with 4K Ultra Zoom at incredible distances
Ultra Zoom is the new magnifying lens for the cameras of smartphones and tablets, which will allow you to take photos with HD quality at up to X300 increases. This will allow you to get sharp and detailed photos from a long distance.
Maximum details in your photos with the Ultra Zoom smartphone lens
Thanks to the Ultra Zoom wide-angle lens for smartphones, you will be able to obtain photos with maximum detail at great distances and in 4K quality. In addition, you will not have any type of pixelation, since the lens makes a natural enlargement of the images, so all the definitions of the photos will be natural.
Highly stable tripod to accompany the Ultra Zoom smartphone lens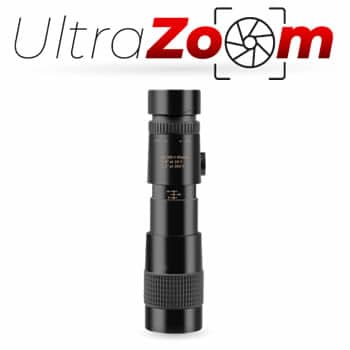 The Ultra Zoom smartphone lens comes with an included tripod that will allow you to take photos with total stability and from any angle, as well as at the right moment thanks to the timer.
In addition to this, it is compatible with phones and tablets of any size, both the lens and the tripod are adjustable in dimensions allowing its use with all devices.
Main features of the Ultra Zoom smartphone lens
Optical zoom for smartphone cameras with up to X300 magnification.
The lens is fully adjustable to adapt to any distance.
You can get professional quality 4K photos in HD
It also has a folding and adjustable tripod up to 90cm.
It adapts to the camera of all mobiles and tablets, regardless of the size of the device.
The lens comes with a protective cap to store it safely.
The lens is anti-scratch and resistant to dust and water.
The tripod is made of resistant materials and is also resistant to water and dust.
It is recommended to clean the zoom lens periodically with a cloth dampened with glass cleaner.
It can also be used as a zoom for digital cameras depending on the review of each manufacturer and the compatibility of the support.
If you use it on a drone with good stability, you can get incredible photos from the heights.
The new version has more power than the ZoomShot Pro mobile lens and gets better photos.
Ideal for taking pictures of dangerous animals or risk areas without any danger and from a distance of security.
Works well in rain and snow, and even quality images can be obtained in light fog.
You can use the Ultra Zoom wide-angle lens to record videos from remote areas without losing resolution and obtain 4K quality.
Like all mechanical zoom lenses, it does not require maintenance or technical knowledge for handling and maintenance.
The price of the Zoom Ultra for standard use for mobiles and tablets is much lower than most products in its category.
For photography lovers, it is advisable to bring a good file storage system such as PhotoStick Mobile to enjoy everything you want to photograph and record.
You can get diffuse lighting effects with the indirect light of the Olumiring light ring.
100% satisfaction guarantee
Free shipping worldwide.
The importance of adjusting Ultra Zoom to the phone's camera
It is advisable to adjust the base of the lens to the camera objective so that it is as close together and fitted as possible. This will prevent ambient light from interfering with the quality of the photo or video.
Additionally you will get more vivid and defined colors in your photographic reports.
Reviews and opinions of the Ultra Zoom mobile lens
It is a perfect gadget as a complement for the mobile. I really like going out to the mountains and the fact of being able to take this type of photos is one more incentive. I'm going to get one for the holidays which is cheap.
Sophie
TV manager
I have one, and the truth is that the review is quite right. Photos come out very sharp from far away. I like to photograph birds, and now I don't have to carry the camera and all the gadgets, I only have my phone and the Zoom to spare.
Antonio
Recycling plant manager
Most ultra-sized Zooms are very expensive. I don't really understand why this one is cheaper, let's see if it doesn't have as much quality as the rest. For now I will continue to use a professional lens.
Ian
Alternative artist
It is very easy to assemble and install inside the phone. Then they are increased and perfect distances of up to about 200 to 250 meters. I like how it handles for shooting photos and it really takes the blows well.
Ian
Barber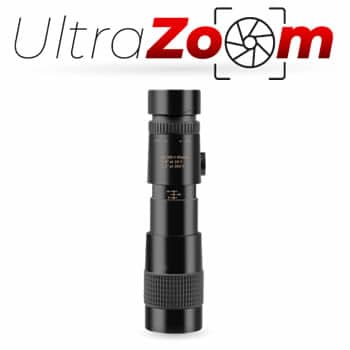 Brand:
Product Name:
Price:
Product Availability