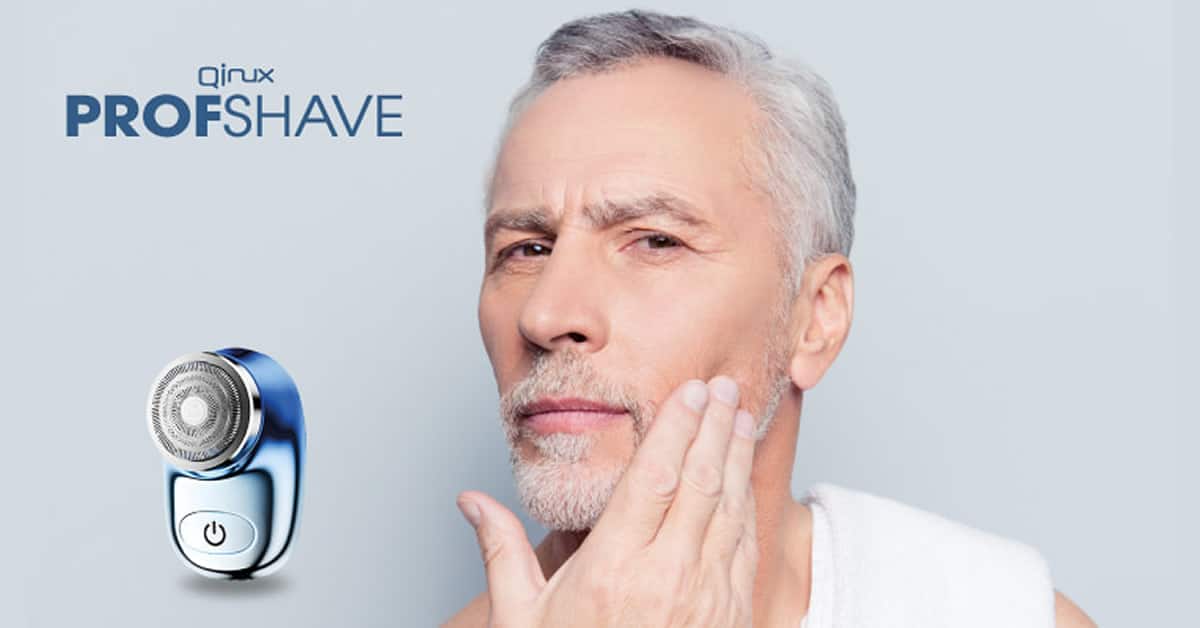 Take the Qinux ProfShave with you anywhere and save time and space
Qinux ProfShave is a mini electric shaver that stands out among other things for taking up very little space, and on the other hand, for performing a quick, very close and cut-free shave, which will surprise you at 6600 revolutions per minute. Essential for any trip.
Few electric shavers fit as well as Qinux ProfShave
When a tool fits in the palm of your hand, you can handle it with great ease. This is what happens with the Qinux ProfShave mini shaver, it is so small that it adapts to you and allows you to handle it with total precision. You will get the most comfortable and fastest shave.
Shave body and face in one pass with Qinux ProfShave
Thanks to its 6,600 rpm motor that allows you to shave quickly, and its optimized battery, the Qinux ProfShave electric shaver allows you to shave your face and body in a single charge.
In addition to this, it provides you with a smooth shave without cuts or irritations thanks to its more protected and efficient rotating blade head.
Features and advantages of the Qinux ProfShave mini electric shaver
USB-C fast charging battery with capacity for multiple shaves.
Double rotating head that provides greater closeness.
Hardened steel blades that are more durable and cut finer.
You can also use it under water, both in the shower and in the bathtub.
Easy to clean, the device comes with a brush that will help you remove hair from the head.
Small size and very manageable to obtain a more precise look.
Ideal for the face and body, it removes hair from the chest, hair or legs with ease and elegance.
Small size, it is designed to be used both at home and on the road, for emergency shaving in the office, etc.
If you want a professional finish, you can also try Trimsher among others.
Finally, it has a safer design that prevents cuts and minimizes skin irritation.
For a skull shave, it is advisable to also try Groomie BaldiePro, which is among the most valued by the public.
100% satisfaction guarantee, you have 14 days of return without obligation
Free delivery worldwide.
The seller has a legal tax identification and makes the direct sale, sending from the brand's factory, without the intermediation of third parties. It is NOT a dropshipping sale and your data and consumer rights are maintained 100%
In case of problems with your purchase, please keep your order number. We can help you at help@youneedthisgadget.com with any of the online stores.
Our final evaluation of the Qinux ProfShave mini electric shaver
Although it is true that there are more and more of this type of devices, this particular model stands out because it vibrates very little and the noise level is low. In addition, the rotation speed is one of the best among devices of its price at the moment.
Conclusions and opinions of the Qinux ProfShave electric shaver review author
Although it is true that it shaves very quickly and that it is suitable for the entire body, when it comes to shaving, I can assure you that with a very hard beard it is a little more difficult. In terms of comfort, it is very comfortable to use and fits well on legs and arms without pinching.
Brand:
Product Name:
Price:
Product Availability