Tempwatch, the smartwatch with infrared thermometer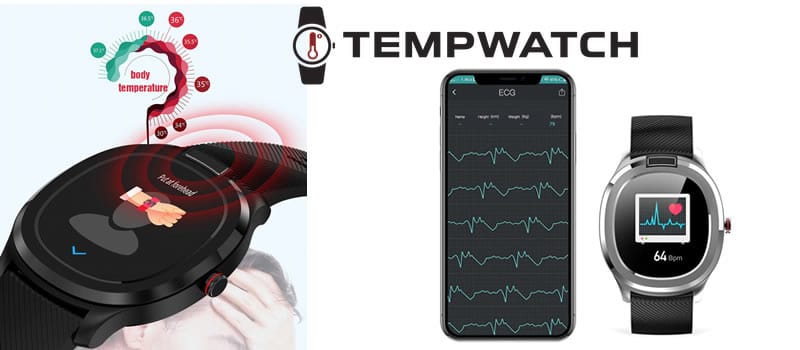 What is the smartwatch with thermometer Tempwatch and what is it used for?
Tempwatch is a smartwatch with a built-in infrared thermometer that allows you to know your body temperature instantly anywhere and with total precision
Instant and reliable health tests with the thermometer smartwatch
In addition to this,TempWatch has a blood oxygen measurement system incorporated.This is a fact that with the new diseases that have appeared, is really important, since in some cases they can cause significant drops in blood oxygen without symptoms of fatigue.
Can we move with our health data at the instant
Thanks to Tempwatch technology we will be able to travel and access any site with the security of having our data on body temperature, blood oxygen, heart rate per minute and a defined health scheme.
So In conclusion, we will have a map of our health always available that avoids us access problems at airports, public events or large areas with the security of being able to enter without problems.
Is Tempwatch reliable and effective?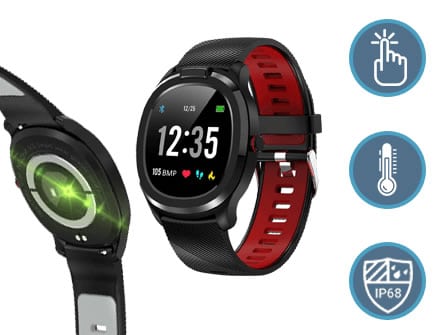 Tempwatch can measure body temperature with total precision in the same way as any infrared thermometer.
In addition to this, this smartwatch thermometer has state-of-the-art software that will launch an alert in case of fever, high pulsations or low blood oxygen.
Features of the smartwatch with infrared thermometer TempWatch
Instant temperature measurement, 0.5 sec. guaranteed.
Ideal for use in adults, for children it is more advisable to use the frontal infrared thermometers.
It is advisable not to immerse the smartwatch in hot water to obtain accurate thermometer measurements.
Blood oxygen monitoring
Alerts for fever, high pulsations, low oxygen in the blood, etc.
Health monitoring software with statistics, daily samples and much more
TempWatch is fully compatible with Android and iOS smartphones through the Fundo application. Once the application is installed, turn on your bluetooth and synchronize the smart watch with the phone.
This smartwatch has an HD touch screen, so you can swipe to access the menus and settings. You can also access all your applications using voice search.
Real-time heart rate monitoring.The precise system like GX Smartwatch is ideal for training and day to day.
The use of the sleep monitoring application has also improved. You can see with great accuracy your deep sleep time, as well as your light sleep.
TempWatch allow to play your music and control your phone's camera via Bluetooth.
Together with the Fitness tracker Xtreme Band, it is the best-seller this quarter in its category.
Reviews and opinions of the smartwatch with infrared thermometer TempWatch
I find the smartwatch thermometer is very interesting and very useful device to demonstrate that you are healthy, and more so now with all the confinements and other problems
Amancio
Entrepreneur
Anything to improve our security is welcome. Also, it doesn't seem expensive to me considering the prices of smartwatch and infrared thermometers a smartwatch with thermometer incorporated is a good option.
Sara
Saleswoman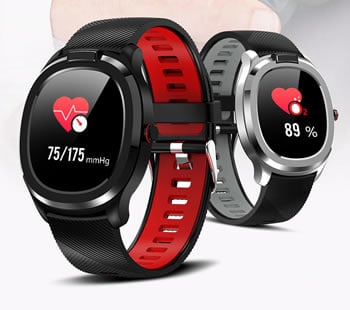 Brand:
Product Name
TempWatch smartwatch with thermometer
Price
Product Availability