Buy smartwatches, all about what smartwatch to buy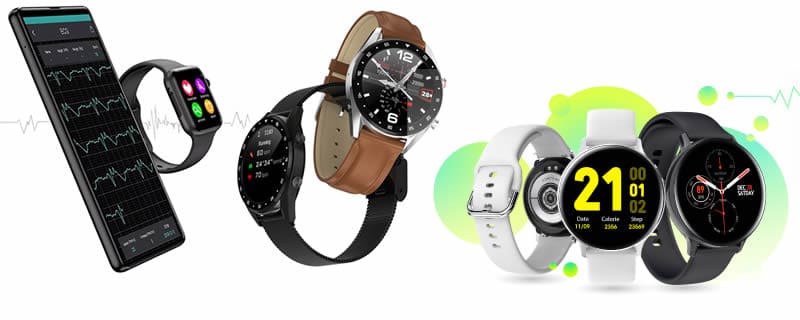 Everything you need to know before buying a smartwatch
What kind of smartwatches should I buy?
It is important to have many factors in mind if we do not want to buy an expensive gadget that does not suit what we need. First of all, the battery must last more than 3 days, the size, the functions, that it is waterproof and that it is compatible with the operating system of our phone.
In addition to coming from specialized and official stores with all the guarantees.
What is the best smartwatch?
Today, there are hundreds of smartwatches to buy, both brand and generic. In our portal you can see the reviews of the smartwatches best value for money, we show you the most outstanding in the following list:
Is it advisable to buy smartwatches on Amazon or Aliexpress?
Obviously the generic brand smartwatches from Amazon or Aliexpress are cheaper. The problem is that there is a lack of guarantees and an after-sales service that have not been satisfactory.
With technology products you have to be careful, and it is advisable to always buy from companies that have visible and available customer service.
For these reasons, we advise the purchase of electronic products always from companies with these characteristics, and not from Amazon or Aliexpress
What guarantee should smartwatches have?
Regardless of what any online store says, the seller must offer the legal guarantee of the country of purchase of any consumer electronic product, this includes buying smartwatches.
For example, CE buyers are entitled to a two-year warranty, even if the product comes from China. For this reason it is important to buy from companies that you can claim in case there is a problem with the product.
In addition to this, any online sales page must abide by consumer rights.
What features do smartwatches have?
The most common features that we will find when buying smartwatches are those related to vital measurements, such as a pedometer, heart rate monitoring, blood oxygen measurement, a sphygmomanometer, and more recently a body thermometer that allows detecting fever levels.
In addition to that, the communication between the watch and the mobile phone, allow remote control of music, camera, message reception, use as a hands-free device and depending on the applications, control of more elements of the mobile phone from the smartwatch.
Are all smartwatches compatible with iOS and Android?
In principle yes, although it is necessary before buying a smartwatch, find out if the application is compatible with Android or iOS, read user reviews and be completely sure.
From our reviews, we only show smartwatches fully compatible with both operating systems like iOS and Android.
Reviews and opinions on the purchase of smartwatches
Sometimes the attention given by the store is more important than the product itself. Many watches are the same, but if it goes wrong, it must be bought from a store that has good after-sales service.
Bernardo
Musician
I was not very clear what smartwatch to buy, but thanks to your review I think I will pay attention and even if it is a generic watch I will go to the official store and take advantage of the warranty in case of problems.
Lucas
Contractor