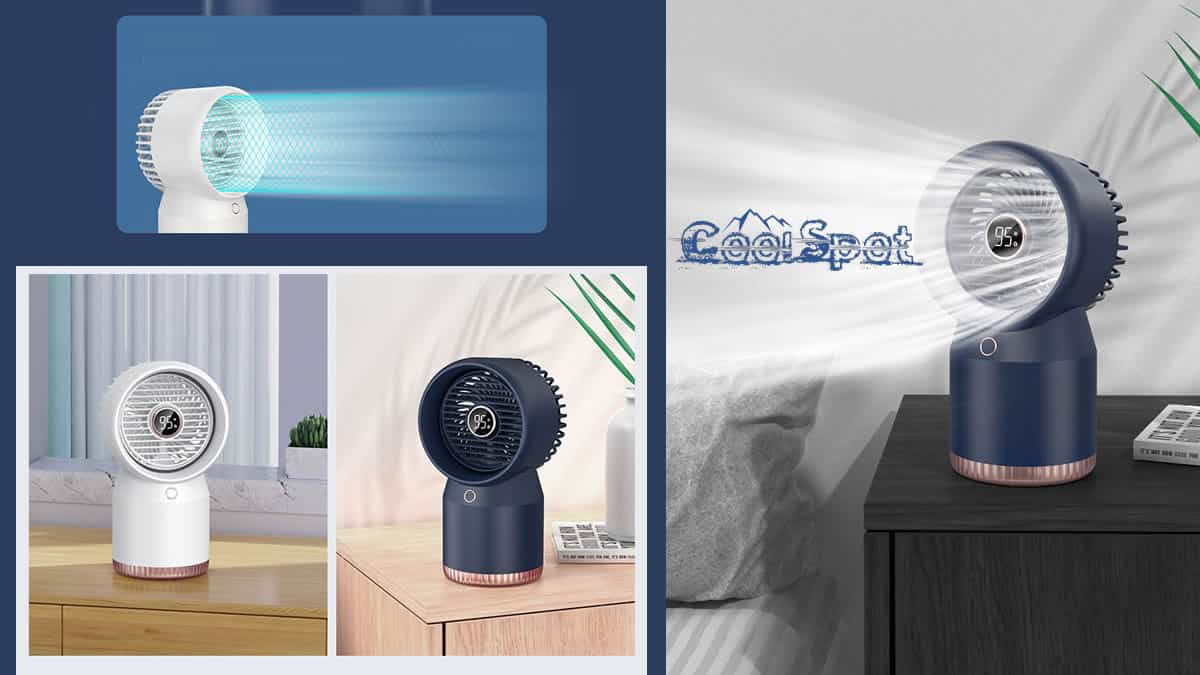 Take the breeze with you thanks to CoolSpot, your companion fan
CoolSpot is a small, portable, adjustable and powerful fan with humidifier that is also cordless and provides you with a nice cool breeze wherever you are for hours.
Sleep better with the CoolSpot cordless mini fan
Thanks to a height-adjustable angle and the fact that its humidifier system does not wet your skin, you can use the CoolSpot wireless fan on your nightstand placed in the optimal position to sleep peacefully and safe from tropical nights.
From the office to the terrace of your house, use the CoolSpot fan wherever you want
Thanks to its long-lasting charge that allows you to use it anywhere without a cable, and its versatility, the new CoolSpot mini fan helps you stay cool outdoors and indoors, you can even take it and use it on bar terraces, the beach or the camping.
In addition to this, the water diffusion system by microparticles that do not wet allows you to use it even near electrical equipment without the risk of being affected by humidity.
CoolSpot Cordless Fan Features and Benefits
10,000Mah battery with a duration of up to eight to twelve hours depending on the intensity of use.
650 ml water tank. that allows you to enjoy hours of a less dry environment.
5V charging that allows you to connect it even to desktop devices.
Three air power intensities depending on what you need.
Much quieter night mode and very low consumption.
Along with the best portable neck fans It's one of the best ways to bring the cool with you.
Large LED screen that allows you total and easy control of the device.
360º spiral air circulation driven by an ultra-silent motor.
Diffuse light as a night lamp, ideal for sleeping.
Other users also check best mini portable air conditioner laptop on this website.
100% satisfaction guarantee, you have 14 days to return without obligation
Free delivery worldwide.
The seller has legal tax identification and makes direct sales by sending from the brand's factory, without third-party intermediation. It is NOT a dropshipping sale and your data and consumer rights are maintained 100%
In case of problems with your purchase, please retain your order number. We can help you at help@youneedthisgadget.com with any of the online stores.
Final Rating of the CoolSpot Portable Mini Fan Review
In addition to being small and powerful, this device adapts really well to any space. In addition to having a personal use that allows you to combat the heat, it is a very safe product for children and pets because the blades are protected.
Conclusions and opinions of the author of the reviewer about the CoolSpot cordless fan
From previous experiences in this type of device, it can be stated that the type of motor is really silent, and the 10,000Mah battery offer many possibilities. It is possibly one of the best options in terms of small fans this summer.
Brand:
Product Name:
Price:
Product Availability