Walk without pain with Milenamm Shoes, corrective sandals
Milenamm Shoes are sandals with a corrective strap on the big toe, which allows the metatarsal to be corrected outwards, thus preventing the problem of bunions from worsening when walking and relieving pain.
Correct your bunions while you walk with the Milenamm Shoes sandals
This footwear has the exact opposite effect to heels, thanks to the fact that the foot is supported by the big toe, the foot maintains its natural posture and the toes do not rub. Milenamm Shoes corrective sandals prevent the deformity caused by bunions from increasing.
Milenamm Shoes corrective sandals are not just for summer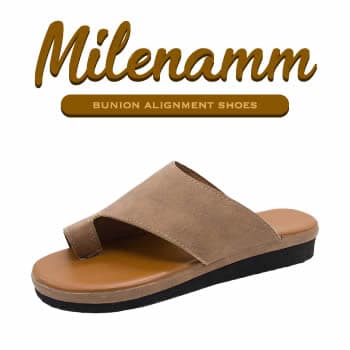 With a soft sock, the autumn and spring months are not cold enough to prevent you from wearing Milenamm Shoes corrective sandals and thus avoid pain. You can also use them to walk around the house or at work without pain.
In addition to this, in winter you can use them with corrective socks My happy Feet Socks.
Features and advantages of Milenamm Shoes bunion correction sandals
Made of very soft and comfortable imitation leather.
Resistant material that does not crack, you can also get them wet.
Padded sole that prevents foot fatigue.
Five different designs so you can combine them with any outfit.
Sizes from 35 to 43.
Non-slip and with a semi-rigid silicone sole, to be able to use them in swimming pools, on the beach, or to walk without wear.
The thumb support prevents chafing with the index finger and also prevents the metatarsal from deforming when walking.
Prevention of the formation of bunions in the feet.
Total comfort when walking.
Note: If you need to use corrective insoles, this shoe model is not suitable.
In addition, you will be able to walk without chafing of any kind, since in footwear it does not touch the instep or the heels
When the deformity is mild, this shoe is ideal, but many people are looking for a bunion corrector that works with more advanced problems.
100% satisfaction guarantee, you have 14 days to return without commitment
Free delivery worldwide.
The seller has a legal tax ID and sells directly from the brand's factory, without the intermediation of third parties. It is NOT sale by dropshipping and your data and consumer rights are kept 100%
Reviews and opinions of Milenamm Shoes bunion correction sandals
Normally this type of foot problems is usually hereditary. It is highly advisable to start doing tests with this type of footwear before it is too late, even if there is hardly any malformation in the foot.
Pablo
Journalist
I had bunion surgery last year and it was one of the worst experiences of my life. If this type of footwear prevents them, to all those women who want to use it, do not hesitate, the sooner the better.
Harriet
Artist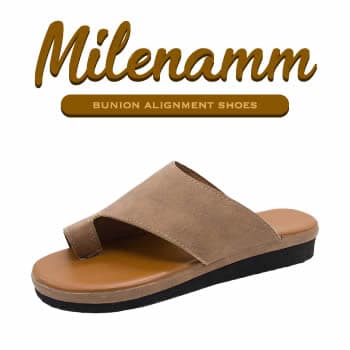 Brand:
Product Name:
Price:

link itemprop="url" href="https://youneedthisgadget.com/milenamm-shoes-the-corrective-sandals-for-bunions/">
Product Availability