Mosqinux FlashBeam's double mesh keeps the bug in and your hands out
Mosqinux FlashBeam is an effective mosquito killer lamp, easy to use and very versatile. It works without cables, and you can keep it going for up to 12 hours anywhere, catching flies and mosquitoes that bother your environment.
An ideal mosquito repellent lamp for your home or for any excursion, that is Mosqinux FlashBeam
Both outdoors and indoors, you need to keep away the annoying insects that accompany summer, especially if you are in the countryside or on the beach. The functionality of the Mosqinux FlashBeam mosquito killer lamp allows you to use this trap in all types of rooms and places.
What makes the Mosqinux FlashBeam Mosquito Lamp different from the rest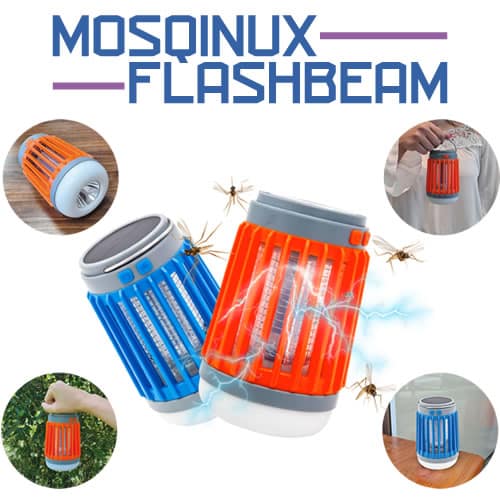 Thanks to a light with regulated intensity, and attractive tones, this insect trap attracts any type of bug, both flying and terrestrial. Plus, the Mosqinux FlashBeam's glare is easy on the eyes and lets you sleep without being dazzled.
In addition to this, its protective grid is specially designed to prevent insects from getting out of the trap and keeps your hands away from any discharge.
Features and benefits of the Mosqinux FlashBeam fly and mosquito killer lamp
You can stay safe from insects for up to twelve hours on a single charge.
Comfortable and practical, it works wirelessly and can be placed on any surface or hung.
Ideal for outdoors or indoors.
Tones of light with an intensity that does not disturb the human eye, even when sleeping and that effectively attracts bugs.
Effectively kills any type of insect, from mosquitoes to horseflies, bees, flies, hornets etc..
For field trips, you can also hide the anti-mosquito watches and insect repellent bracelets from this same website.
Safety grid that prevents people or pets from being shocked.
It is recommended to keep it out of the reach of small children.
Large capacity tank, does not need water and is easy to clean.
Decorative colors that blend very well in any environment.
Among the best LED mosquito traps this year.
100% satisfaction guarantee, you have 14 days to return without obligation
Free delivery worldwide.
The seller has legal tax identification and makes direct sales by sending from the brand's factory, without third-party intermediation. It is NOT a dropshipping sale and your data and consumer rights are maintained 100%
In case of problems with your purchase, please retain your order number. We can help you at help@youneedthisgadget.com with any of the online stores.
Reviews and opinions of the Mosqinux FlashBeam mosquito killer lamp
A nice design and a size that seems light and small are appreciated. If the light is intense enough, it can protect areas of more than 15 meters. If the price convinces me I will buy it.
Marcus
CEO
For me, the best experiences in summer are vacations in the countryside and relaxing and fun nights. If there are a lot of insects it becomes uncomfortable and you end up full of bites. A good electric trap works very well.
Irina
Webmaster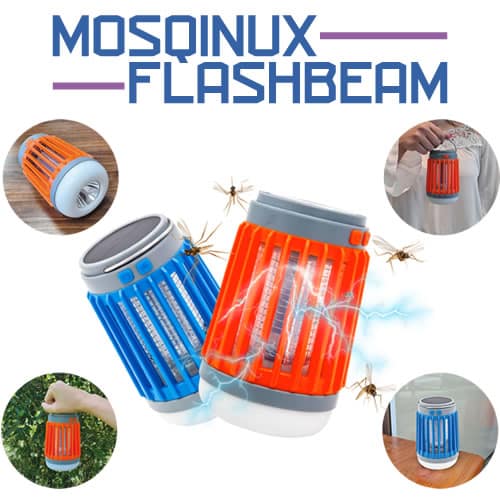 Brand:
Product Name:
Price:
Product Availability