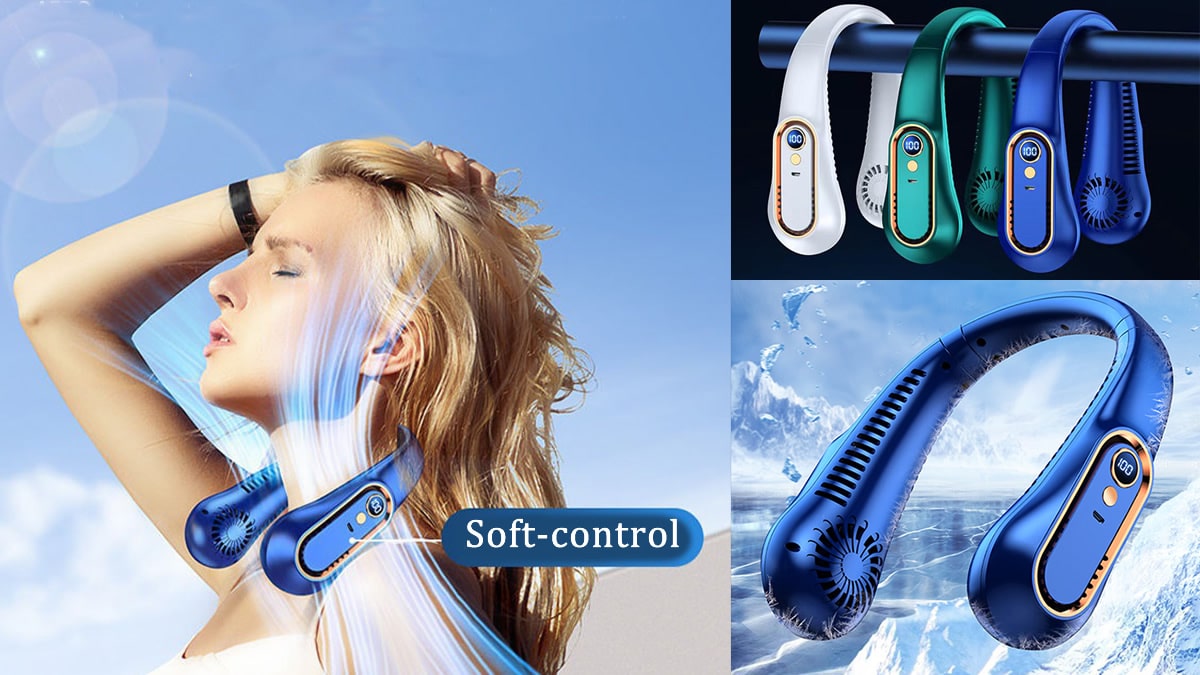 Don't get hot, the NeckBreeze neck fan will keep you cool
NeckBreeze is a bladeless neck fan with a more uniform air outlet in effect 720º. Thanks to its internal turbine you will take the coolest environment with you without your hair getting caught and with the greatest comfort.
How does the NeckBreeze portable neck fan work?
Thanks to its intelligent control with an LED screen that allows you to regulate the speed of the air, you just have to attach the NeckBreeze neck fan at the angle that best suits you and select the intensity with which you want Let the air refresh you.
720º effect that allows NeckBreeze to cool more than other neck fans
Thanks to the multiple air vents on the sides and the front area with 360º exhaust, the NeckBreeze portable neck fan cools your neck, face and upper torso efficiently.
In addition to this, the technology used by the internal turbine provides a first cold compressed air that allows you to cool off in a few seconds, it is perfect to avoid heat stroke.
NeckBreeze Neck Fan Features and Benefits
2000 Mah battery that with a quick charge can work up to 8 hours providing a cool breeze (depending on the intensity of use).
LED display with all the device information.
Fan without blades, internal turbine that avoids hair snags, accumulation of dust in the circuit, etc..
Four internal motors that provide more power.
Up to five intensities of fresh air to adapt to any person and climate.
You'll find this device among the best portable neck fans of this summer without a doubt.
Silent and comfortable around the neck, it is perfect for use in the office, at your workplace or on the sofa while watching TV.
Along with Qinux Fresheck it is one of the few models that offer 720º ventilation and with compressed air.
Much cooler air temperature thanks to air compression.
Check availability of colors. Currently white, blue, black, green and pink.
Other users also check reviews of the best mini portable air conditioner in this same portal.
100% satisfaction guarantee, you have 14 days to return without obligation
Free delivery worldwide.
The seller has legal tax identification and makes direct sales by sending from the brand's factory, without third-party intermediation. It is NOT a dropshipping sale and your data and consumer rights are maintained 100%
In case of problems with your purchase, please retain your order number. We can help you at help@youneedthisgadget.com with any of the online stores.
Overall NeckBreeze Neck Fan Review Ratings
In general, it is a good device, made with quality materials, it is having a good acceptance by the public. Regarding the technical innovations that the NeckBreeze neck fan brings us, it stands out for much cooler air than its predecessors and the battery with a dual-core chip that saves energy.
NeckBreeze Neck Fan Reviews and Opinions
Last year I bought a model with only the front air outlet and I didn't like it at all. It barely felt the breeze and ended up stored in the drawer. This year I'm going to wait to try one of these before I buy it.
Eva
Electromechanical
In addition to saving energy, being able to work cool without the need for air conditioning is an excellent experience. You avoid colds and you can take it for a walk. I like it a lot.
Matt
Dibujante
Brand:
Product Name:
Price:
Product Availability