You can't imagine the things you can do with Ringo, the magnetic bottle
Ringo is a bottle with a magnetic phone holder specially designed to withstand the weight of your phone and accommodate your conversations, watching videos, video conferencing and more, while having your hands free.
How does the Ringo magnetic phone holder bottle work?
The mechanism is very simple, it is made up of a stainless steel bottle and a cap that has a magnetic ring attached as a support. Simply hold your phone centered on the Ringo bottle and move it to the angle that best suits you.
What is the Ringo bottle with phone holder for?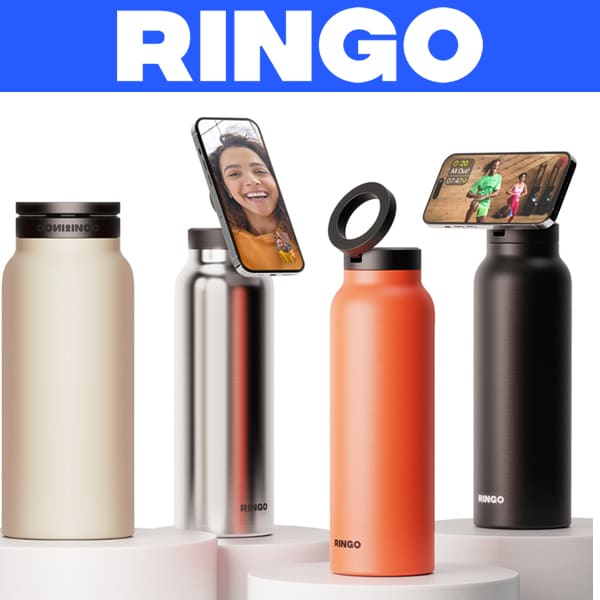 First of all, to keep liquids inside, and drink, obviously. In addition, and that is its characteristic that stands out, the Ringo bottle allows us to use the phone remotely without needing our hands in a stable and safe way.
In addition to this, it is the ideal complement for watching videos, making video conferences, recording images or taking photos, without having to use your hands, and with the ideal angle at all times.
Features and advantages of the Ringo bottle with magnetic holder
Made of stainless steel, ultra-resistant and protected against corrosion.
Magnetic support integrated into the cap with adjustable positioning in front angle, and 90º lateral rotation that allows optimal focus.
Powerful Neodymium magnet that keeps the phone attached to the support.
Total balance, even if the bottle is empty, it does not tip over when supporting weight.
Compatibility with MagSafe compatible cases, if you use a case that is not MagSafe you can purchase a reinforcement (not included) in your purchase.
Support for all types of devices, from Maxphone type smartphones to iPads or tablets.
In addition to this, you can wash it in the dishwasher without damaging it.
It is advisable to dry with a cloth after washing, and apply degreasing spray every few months to extend the life of the support.
Together with the ring light for phones OlumiRing it is one of the best-selling gadgets this quarter.
Variable capacity of 24oz (600ml approx.) or 32oz (900ml approx.) to choose or combine.
In addition, it maintains the temperature of drinks for a long time, whether cold or hot.
100% satisfaction guarantee, you have 14 days of return without obligation
Free delivery worldwide.
The seller has a legal tax identification and makes the direct sale, sending from the brand's factory, without the intermediation of third parties. It is NOT a dropshipping sale and your data and consumer rights are maintained 100%
In case of problems with your purchase, please keep your order number. We can help you at help@youneedthisgadget.com with any of the online stores.
Final rating of the Ringo bottle with phone holder review
Combining a bottle and a magnetic ring that holds the smartphone in a single gadget is a very ingenious idea. Not only is it practical, but they are also two of the most used products when we go traveling or on an excursion.
Conclusions and opinions of the author of the Ringo bottle review
The order arrived within the established time. The bottle is resistant and light, and the base is very stable. I have tested the different angles of the stand and it really allows you comfortable viewing and taking images from any position. Furthermore, it is true that the phone does not fall if it is empty.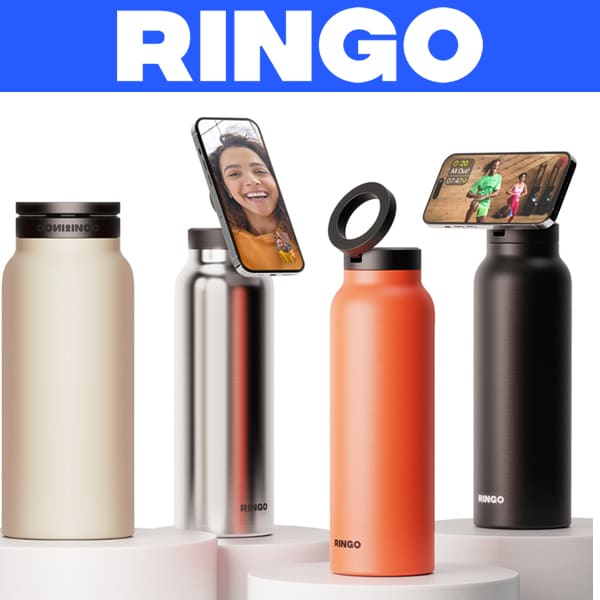 Brand:
Product Name:
Price:
Product Availability