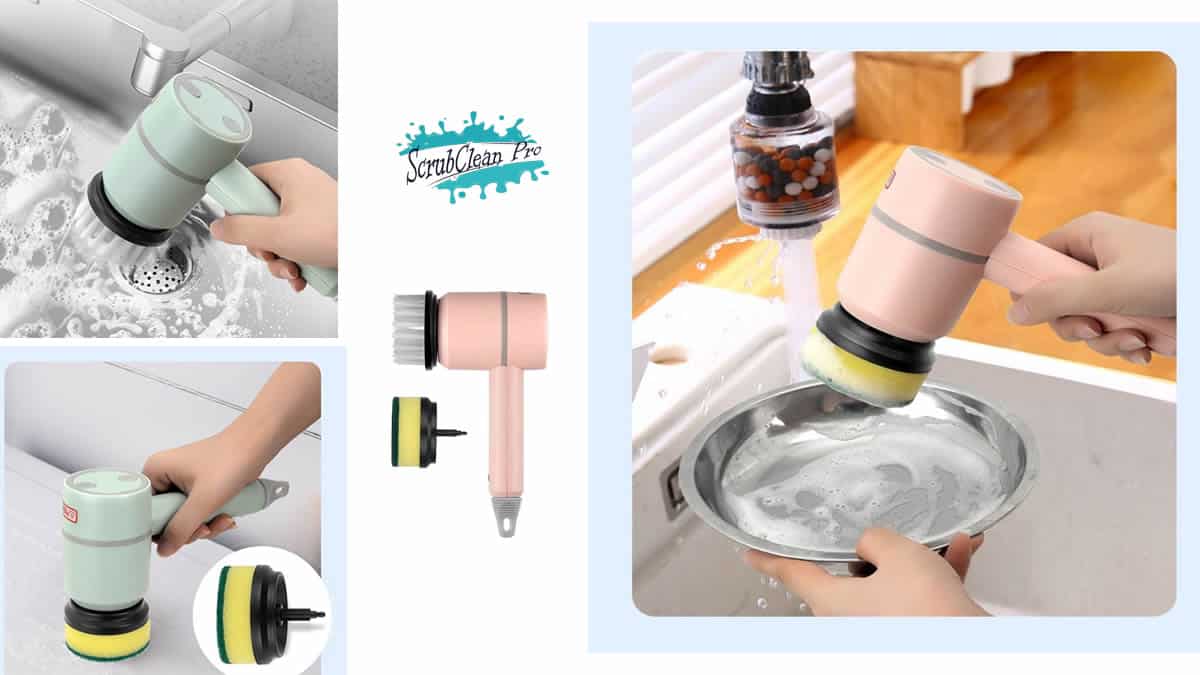 Do not get tired cleaning ScrubClean Pro helps you in your tasks
ScrubClean Pro is a cleaning brush with an electric motor that rotates at high speed, thus helping in cleaning tasks at home. In addition, it has different specialized heads for each of the surfaces.
From dishes to hood grates, everything can be cleaned with ScrubClean Pro
One of the great advantages of this type of household cleaning device is that it adapts to all surfaces and objects. The ScrubClean Pro electric brush is designed to clean everything from furniture and tableware to plated and home appliances.
Do not exert yourself, let the ScrubClean Pro rotating brush do it for you
The force generated by the heads when turning effectively removes dirt. Thanks to this, the ScrubClean Pro electric cleaning brush does more than 80% of the necessary effort.
In addition to this, not only do you get less tired, but it also prevents you from wrist, finger, back or arm injuries, as it is very easy to handle and hold.
Features and benefits of the ScrubClean Pro electric cleaning brush
USB rechargeable battery with up to 45 minutes of battery life.
Specialized interchangeable heads to clean up to 6 different types of surfaces.
Comfortable handling, with only 380g of weight you will not get tired of using it.
Deep cleaning with little effort, the speed of rotation of the brush extracts practically all the dirt.
If there is grease or other remains that are very stuck, it is advisable to soften them with a cleaning product,
Smoother spin speed for routine tasks such as cleaning the dishes or the air vents or the extractor.
Greater power for stubborn dirt, ideal for food remains on glass ceramics, mold, tile joints, etc..
Shock absorber that allows you to apply more pressure with less effort.
Ideal for cleaning any surface at home and in the car, including upholstery, wheels or the dashboard.
Save money in the medium term, you will need 80% less cleaning products.
In addition to this, it has a hanger that allows you to place it in any corner of the home without taking up space.
100% satisfaction guarantee, you have 14 days to return without obligation
Free delivery worldwide.
The seller has legal tax identification and makes direct sales by sending from the brand's factory, without third-party intermediation. It is NOT a dropshipping sale and your data and consumer rights are maintained 100%
In case of problems with your purchase, please retain your order number. We can help you at help@youneedthisgadget.com with any of the online stores.
Final ScrubClean Pro Electric Cleaning Brush Review Rating
Small and manageable, it is a less powerful model than others on the market, but it seems very comfortable to drive. For a thorough wash it is very useful, and for day to day at home it can save a lot of time.
Conclusions and opinions of the author of the review of the ScrubClean Pro rotary brush
When you hold it in your hand, you can see that it weighs very little. The heads turn well and do not stop if you apply a little force. On the other hand, the electric motor makes a little noise, but not excessive. I personally think ScrubClean Pro is a good buy.
Links related to this review
Brand:
Product Name:
Price:
Product Availability