Shape Watch the most powerful sports smartwatch

Is Shape Watch really good compared to other powerful models?
Shape Watch is a smart watch that stands out for being one of the most powerful on the market thanks to its AI. This model expands our latest generation smartwatch catalog.
It has the usual Smartwatch functions such as a step counter, blood oxygen pressure, pulsations, calories. And in addition once configured on our phone, take and hang up calls.
In addition to this, Shape Watch has access to the time, music and all the information you have on your smartphone, as well as many other functions. As a result you will discover when you have it in your hands. Almost as novel as the WT2 Smartwatch model currently the most fashionable.
Shape Watch, the smart watch that suits you.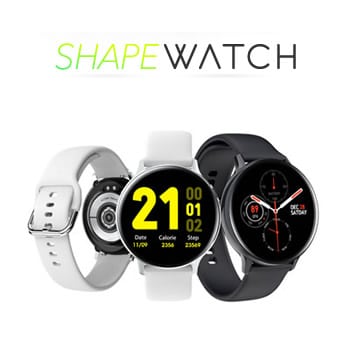 If the eWatch was one of the best sellers the last year, this can, along with the Smart eWatch and Shape Watch also with round dial, one of this year's smartwatch.
For its price, design, versatility and functions it is a complete smartwatch that we recommend.
What can I do with Shape Watch smartwatch?
Certainly you can do the same as with other watches more expensives. The user experience in any smartwatch is essential and Shape Watch in this sense will surprise you.
You will be satisfied with a smart watch that competes with high-end watches. In conclusion the Shape Watch is a smart watch with very powerful software, that surely fulfills the functions you expect from a smartwatch.
As we have already mentioned, to the basic functions of a watch we can add thanks to its highly accurate optical sensor the heart rate, blood oxygen pressure, step control, distance traveled, all the usual characteristics of these smart watches with the addition very interesting screen customization, with the style you like best.
Shape Watch features
Shape Watch is compatible with Android and iOS smartphones . Once the application is installed, the connection is very simple, activate the bluetooth and when the smart watch appears, synchronize it with the phone.
Shape Watch has a spherical touch screen , so you can slide to access the menus and settings, and you can customize the screen showing what interests you most, with the style that best suits you.
Activity monitor, step control, to control your daily activity.
In addition to this, play your music through Bluetooth.
You can also find the rectangular version on the Smartwatch Fit 2 Go.
Free shipping worldwide.
100% satisfaction guarantee
How can you buy Shape Watch in your country?
You can buy this smartwatch wherever you want , it is currently available worldwide through the online store. Also, take advantage of the discount that you can find through our link, without discount code, it is applied directly.
Shape Watch reviews and opinions
Beautiful design, meets what I was looking for, so in conclusion everything is fine.
Alejandra
cheff
First of all I was looking for one with a round dial, nice and not very expensive, it works very well and is very powerful
Jaime
Plumber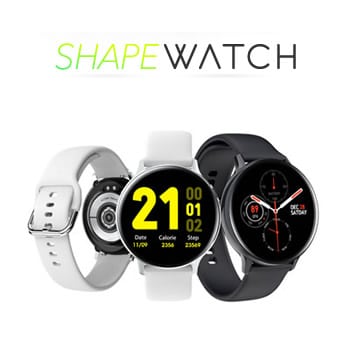 Brand:
Product Name:
Price:
Product Availability