Clear Shield reusable and transparent mask

Show off your smile while you are protected with Clear Shield Smart Shield, the transparent mask
Clear Shield is a reusable and totally transparent mask that will allow us to fully show our face while being protected against viruses and bacteria called Smart Shield. It is safe, clean and we can use it as many times as we want.
Clear Shield Smart Shield reusable mask is extremely effective against splashes
One of the great advantages of the Clear Shield reusable mask is that it is totally hermetic over its entire surface and the breathing zone is in the side filters. This prevents any splash of any kind from penetrating, thus protecting us from viruses and bacteria.
The reusable and transparent Clear Shield mask will make you smile back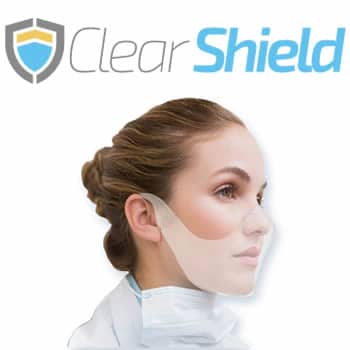 One of the things that makes the Clear Shield Smart Shield reusable mask special is that it is completely transparent, and will allow you to fully show your face again when you are with other people, either on the street, or in meetings.
In addition to this, it has an advanced anti-fog system that will leave your face and that of yours always in view.
Main features of the reusable mask Clear Shield Smart Shield
Made with BPA-free resins, it is totally safe and hygienic.
The mask is fully adaptable to any face, which makes it comfortable and safe.
Reusable, it can be washed hundreds of times without losing its properties.
Completely safe against splashes, is hermetic from the front and has the breathing system in side filters.
It is advisable to wash the mask with soap and water, and then rub it with hydroalcoholic gel.
Besides this, it can be disinfected with UV disinfection devices.
The mask is completely transparent and its breathing system helps to prevent mist.
It works as psychological support, making it easier and more comfortable to go out and socialize again.
It is totally safe against viruses and bacteria, and helps both to protect oneself and not to contaminate to others.
You must keep the side filters as closed as possible to avoid any contagion by aerosols.
Fully approved and with all CE and US certificates according to the manufacturer's review.
The material is fully recyclable, and therefore does not pollute when its useful life is over.
Allows you to clean makeup stains quickly with a wipe.
The fact of being transparent and waterproof makes Clear Shield the perfect mask for meetings and social events.
It is the best Smart Shield model in the market for price and quality of the materials. As a Clear Visor the new mask.
It is advisable to put it on and take it off using gloves.

Advantages of Clear Shield over other transparent masks

Although restrictions have been lifted, it is advisable to continue with a high degree of protection.
You can also use and it is advisable to use the UV disinfectant Germcide X for a better disinfection of the mask.
Warning: For hygiene and safety, never share your Clear Shield mask with other people
Combine safety and fashion in a single complement with this transparent mask.
You can reuse it for more than a year if you take care and wash it correctly.
The mask is approved and is currently considered completely safe according to the official store review.
Note: It is advisable to buy the Clear Shield mask in the official store and avoid imitations of large portals such as Amazon.
All transparent masks stain with nicotine if you smoke using them, it is advisable to avoid tobacco smoke.
Unlike any self-filtering protective mask, the particles are blocked in the upper area of the face.
You can buy the Clear Shield transparent mask in the official store without having to go to a pharmacy and with all the guarantees.
As it is flexible, you can disinfect it with the Bril UV sterilizer anywhere.
Free shipping worldwide
100% satisfaction guarantee.
The Clear Shield mask is designed to improve your social interactions
Many people need to get back to improving the way they interact with others. Thanks to transparent masks like Clear Shield, you can once again show your gestures and expressions to others, and thus make your relationships with others return to normal.
Reviews and opinions of the Smart Shield Clear Shield reusable mask
It looks more like a protective screen in the form of a mask than anything else. Anyway, I like the idea that people can see my face, I'm going to buy one and try it.
Mariana
Forestry engineer
Could you indicate the level of security they have? From what they explain, it is totally waterproof because of the silicone with which it is made, but the side air intakes are not very well. Can you give more information about it?
Ernest
Restorer
I thought it would be more uncomfortable to wear with the helmet on the motorcycle, but it really is very comfortable, and it also protects from the cold in winter. It seems like a very good option and my glasses don't fog up, in addition to being easy to clean it lasts much longer.
Rick
Policeman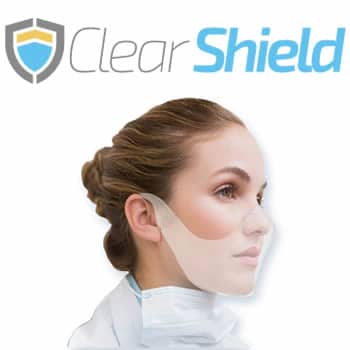 Brand:
Product Name:
Price:
Product Availability