With the UniWrench multifunction wrench, there will be no nut that can resist you


UniWrench is a universal wrench that you can use to loosen or tighten any type of nut, bolt or hook with ease. It replaces all types of keys up to 19mm and adapts to all types of non-circular geometric shapes.
Full adaptability to worn nuts thanks to the UniWrench multi-purpose wrench
Many times you can find nuts that wear has rounded the edges, and you risk making them useless by applying too much force. The internal nodes of the UniWrench universal wrench allow you to obtain the optimum point of support so as not to force the nuts.
Carry the tool case in your pocket with the UniWrench universal wrench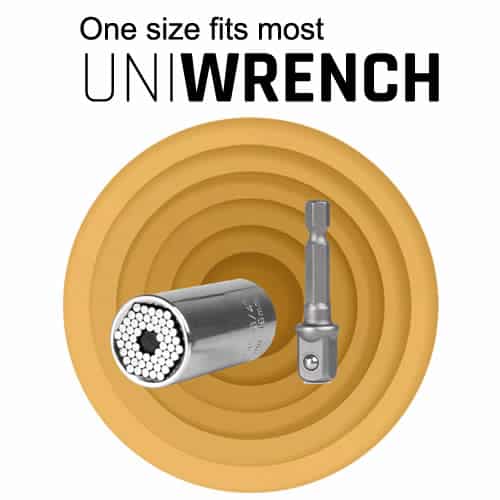 Thanks to the fact that in a single head you replace more than 100 tools, including fixed wrenches, pliers and others. With the UniWrench universal key you will save space and weight of dozens of pieces.
In addition to this, its support allows you to use it in drills, screwdriving machines and ratchet wrenches, so you can reach any nut and bolt.
UniWrench Universal Wrench Features and Benefits
A single piece for all types of nut, bolt or bolt.
Attachment for drill or ratchet allows you to use it effortlessly and at any angle.
Made of Chrome Vanadium alloy, resistant to shock and wear.
Universal wrench for nuts, screws, hooks, bolts and metal parts with smooth sides.
In addition, its different nodes allow you to remove nuts with wear of up to 60% approx. without making the head round.
Ideal for DIY at home, to take in the car, motorcycle or bicycle.
Fits nuts of all shapes and fits firmly, without dancing when worn.
Maximum 19mm, suitable even to replace the wheel of the car.
Ideal complement to Keyzmo for a complete kit of tools in a couple of pieces.
If you are one of those who lose tools, this device will allow you to have everything in one place and without taking up space.
Finally, to work in low light, it is advisable to use the mini flashlight Kerile and thus have the best workspace possible.
Note: For nuts with a lot of wear it is advisable to use a screwing machine and press the tool hard.
100% satisfaction guarantee, you have 14 days to return without obligation
Free delivery worldwide.
The seller has legal tax identification and makes direct sales by sending from the brand's factory, without third-party intermediation. It is NOT a dropshipping sale and your data and consumer rights are maintained 100%
In case of problems with your purchase, please retain your order number. We can help you at help@youneedthisgadget.com with any of the online stores.
UniWrench Multi-Function Wrench Reviews and Opinions
I love all these types of tools. I am a fan of DIY at home and I try them all. If it also fits allen keys, I'm going to buy it for my workshop collection.
Johan
Writer
When you have a briefcase with tools, and you lose the head of a specific size, like 12-13 for example, which is the most used, you go searching. It is one of the bad experiences of having loose tools.
Vincens
Commercial agent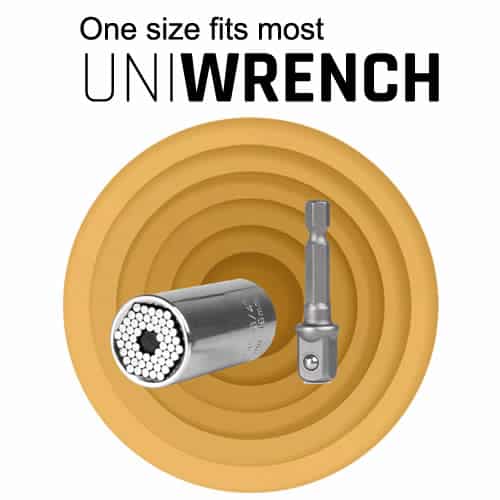 Brand:
Product Name:
Price:
Product Availability