Dry footwear and available with HeatSus in any month of the year
HeatSus is a shoe dryer that allows you to have your shoes and boots dry and very hot in a few hours, without having to wait a whole day to have them available in case they get wet due to rain, snow, etc.
The HeatSus shoe dryer is your perfect old companion
When you travel you never have spare shoes on hand, or not enough, especially if it rains at your destination. Carrying the HeatSus shoe dryer in your suitcase, you will have your shoes ready when you need them. It is an essential gadget what to take on a trip.
You will never have foot odor with the HeatSus shoe dryer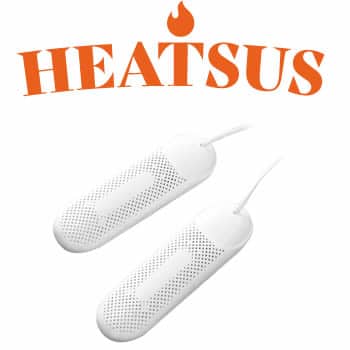 Humidity and sweat make the shoes smell bad, and consequently your feet. The HeatSus shoe dryer eliminates moisture more quickly and with it the bad smell that you may acquire.
In addition to this, you can use the device after washing your shoes or socks and have it ready in a few hours without having to hang it outside.
Features and advantages of the HeatSus shoe dryer
Works plugged into the wall outlet, doesn't use a battery.
Oval and ergonomic shape that adapts to any type of shoe.
The drying of the footwear is carried out by means of hot air that the device expels at a constant 180º.
Auto power off at 4, 8 and 12 hours.
Quick drying of socks, shoes or boots.
Temperature control system that disconnects the device if a marked limit is exceeded.
Thanks to this device, you will prevent the proliferation of fungi, bacteria or bad odors in your footwear.
For winter boots like Boojoy Winter Shoes, it is advisable to dry in a more controlled way, because they are waterproof.
Two different models, for children's footwear, from size 18 to 35 and for adults, from 36 to 44. European Measurements
Ideal for traveling and keeping your shoes dry in any circumstance.
Next to the Bril toothbrush sterilizer , is an essential in your suitcase.
100% satisfaction guarantee, you have 14 days to return without commitment
Free delivery worldwide.
The seller has a legal tax ID and sells directly from the brand's factory, without the intermediation of third parties. It is NOT sale by dropshipping and your data and consumer rights are kept 100%
In case of problems with your purchase, keep your order number. We can help you at help@youneedthisgadget.com with any of the online stores.
Reviews and opinions of the HeatSus shoe dryer
In winter, the problem of drying the shoes after washing them, or after the children get into the puddles, is a classic one. Either you have several pairs of shoes, or they go to school wet. Those are experiences that all mothers live.
Andrea
Kinder garden's teacher
First of all, it seems to me an excellent investment, if it weighs little it will always go in my suitcase. I travel a lot for my job, and when I get rainy days it's a big problem for me.
Igor
Pottery rep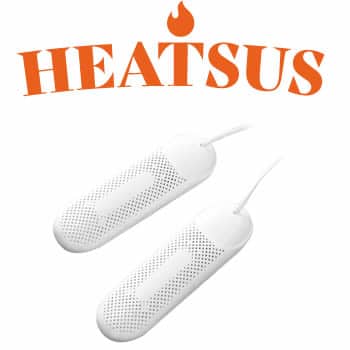 Brand:
Product Name:
Price:
Product Availability